Frotcom proudly exhibited at the 13th Supply Chain Logistics Conference and Exhibition
Frotcom exhibited its wide range of impressive Fleet Management features and discussed industry insights at the 13th Supply Chain Logistics Conference and Exhibition.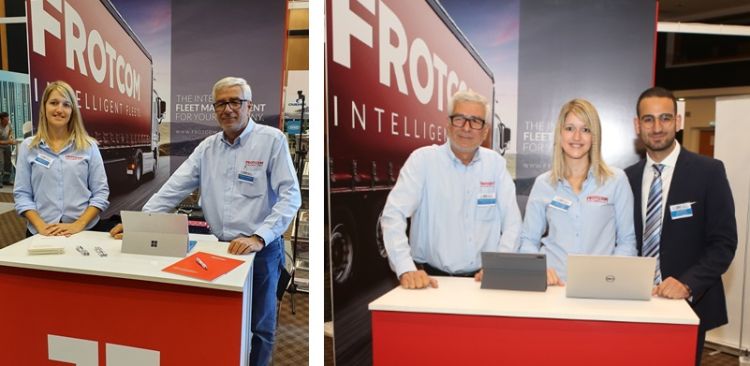 The 13th annual Supply Chain and Logistics Conference and Exhibition took place in Cyprus on October 31st, and Frotcom was delighted to be in attendance, exhibiting its innovative Fleet Management technology alongside the major industry players of Cyprus.
Frotcom presented its Fleet Management and GPS vehicle tracking solution at stand 17, inviting delegates to discover more about the software's intelligent features. The team took the opportunity to showcase some of the most trailblazing features, including Driver Behavior Analysis, Remote Tachograph Download, Fleet Cost Management, and Mobile Workforce Management.  
High-profile companies, suppliers, and distributors from the region attended the exhibition, providing a great opportunity to network with new and potential customers. The conference at the event was also a valuable opportunity to learn about new products and best practices from commercial companies who are successfully using their transport logistics technology as a business tool.
According to Michalis Christodoulides, CEO of Frotcom Cyprus, "The 13th Supply Chain & Logistics Conference and Exhibition is the most significant industry-specific event in Cyprus. A high number of prestigious speakers, visitors, and exhibitors attended the event that allowed us to showcase our range of products and services while building and maintaining important relationships in the market. This year we focused on the new Remote Tachograph Download & TIS-Web Analysis and our Driver Behavior, Cost Management, and Workforce Management modules."
If you missed us at this event, you can contact us now to find out more about the benefits of Frotcom.
Post tags:
Frotcom
Fleet management
13th Supply chain and Logistics Conference
Driving behavior analysis
Remote tachograph download
Fleet cost management
Mobile workforce management