Frotcom RS d.o.o is the new Frotcom partner for Serbia
Serbian companies with fleets of vehicles can now take advantage of Frotcom's fleet tracking and management features.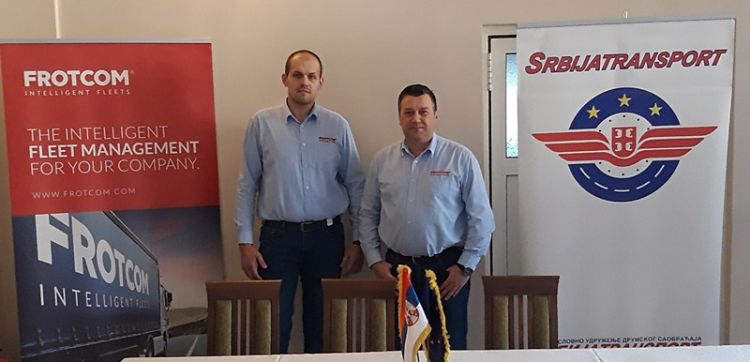 Ivan Blagojevic from Frotcom Serbia and Trajche Nikolov from Frotcom North Macedonia.
The wide experience acquired in the Macedonian Market, led Dragan Kostovksi, Executive officer of Frotcom North Macedonia, to launch Frotcom in Serbia.
Dragan has already spent many years promoting and marketing Frotcom in North Macedonia. After analyzing telematics companies in the Serbian market, Dragan concluded that the features provided by Frotcom would be a competitive asset in reducing costs, increasing productivity, and safety, among others.
The activity started on the right track, with the official presentation of Frotcom Serbia at the "Annual Meeting of transport companies from Western Serbia" hosted by Srbijatransport in Prijepolje (Western Serbia), on the 23rd of January. In addition to the materials made available at the Frotcom stand, a 10-minute presentation was also made to all the participants about Frotcom and how transport companies can make the most of this GPS vehicle tracking and fleet management tool.
According to Trajche Nikolov from Frotcom North Macedonia, who attended the annual meeting to give his support to Frotcom Serbia, this event is, "Packed with so much knowledge and great speakers, striking a balance between research, analytics and the law. In short, it is a source of inspiration. These conferences are key to ensure an understanding of the challenges that transportation companies currently face, the competition, and the opportunity to leap ahead of them. It is a great opportunity to showcase Frotcom's professional solutions and capabilities that will meet all their needs."
If you wish to receive a proposal for your fleet of vehicles, please contact a member of our team.
Post tags:
Frotcom
Frotcom Certified Partner
fleet management solution
GPS vehicle tracking
Frotcom North Macedonia
Frotcom Serbia