Frotcom's intelligent fleet management system offers Privacy Mode
Privacy Mode is a feature in Frotcom that allows drivers to switch vehicle tracking off temporarily and is particularly helpful for organizations that permit personal use of company vehicles.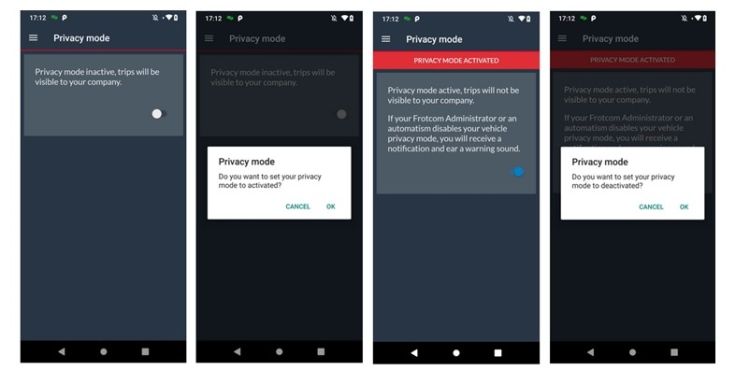 Fleet drivers can easily activate and deactivate the Privacy Mode manually via the Driver App. You can also do this directly from the office, in which case the driver will receive a notification. Alternatively, Privacy Mode can be set to activate at specified times of day or weekends automatically.
When enabling Privacy Mode, GPS-based data information such as journey details, location, and speed, are no longer visible on the Frotcom map. In fact, data coming from the vehicle will be discarded completely. Frotcom will still continue to calculate the total overall mileage traveled by a vehicle, but without revealing location information. By maintaining an overview of the total mileage, businesses can ensure vehicles are correctly monitored for leasing contracts and maintenance purposes, for instance, without infringing privacy rights.
 
For more information on Frotcom's Privacy Mode, contact a member of our team.
Post tags:
Fleet management software
Privacy Mode
GPS vehicle tracking
Frotcom Driver App