New Driver app features that will keep your drivers updated of their places and driving times
New features are available on the Driver app, so your fleet drivers can now create places based on current location and monitor their driving times, rest periods, breaks, and amplitude, in several different views.
When we launched the Frotcom Driver app, in the last quarter of 2019, it intended to target not only features useful from the company's perspective but especially from the driver's point of view.
Now, we've added additional features for drivers to get the most out of the Driver app:
 
Create a place in Frotcom based on your current location
If a driver has a place that he/she regularly visits, this new option of the app allows creating a new Place in Frotcom based on his/her current location. The Create place request will be submitted to the Fleet Manager, who needs to accept and categorize the new Place created.
To use this new feature, make sure the app has permission to access the driver's current location. Otherwise, this feature will not be available on the driver's smartphone.
 

Driving Times
With this additional feature, drivers can now have an in-depth view of their current driving times, regular and reduced daily rest periods, breaks, and amplitude, to comply with Regulation (EC) No 561/2006 of the European Parliament. Five different views are now available:
 
Elapsed driving time to see the time spent from the available driving time, as well as information regarding how many extra hours and reduced daily rest period were already used (this view appears by default);
Remaining driving time to make it even easier to check how much driving time is left until a break is needed;
Regular daily rest period to monitor any period of rest of at least 11 hours;
Reduced daily rest period to monitor any period of rest of at least 9 hours and less than 11 hours;
Complete driving times include all the information above, as well as an extra block of information containing the Beginning of the period, the Duration of the last break, and the Amplitude.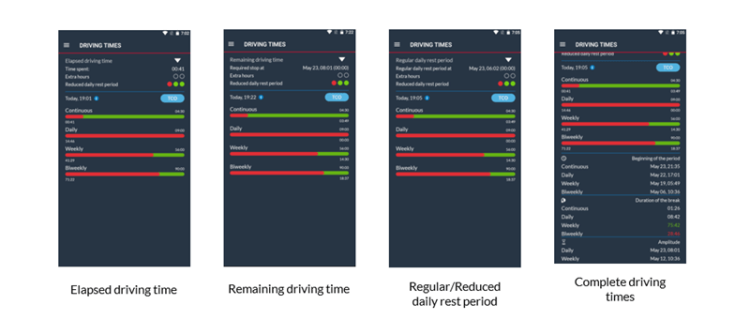 Learn how to easily use our Driver app by watching this tutorial available on the Frotcom Academy YouTube channel.
 
Drivers might have to request permission to access these two new features. If your drivers are already using the app, make sure you have already provided the necessary permission. They will need to log in again to use these options.
For more information regarding this and other Frotcom features, contact a member of our team.
Post tags:
Frotcom
Driver app
Features
Fleet management
Driving behavior
Driving times
Create a place
Frotcom Academy
Frotcom tutorial
Google Play Store