Engage your drivers with the new Driver App
Drivers are a crucial part of your business and with the shortage of skilled drivers in the industry; the Driver App will provide them with information to drive safely.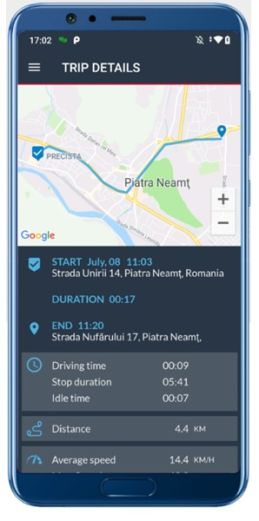 Frotcom's new Driver App is designed to help drivers engage with your business and enable fleet drivers to assess their performance by providing information on their trips and driving behavior. This new feature provides the exact same information to drivers as seen by you in the office, such as trip mileage, routes taken, fuel consumption, driving score, and average speed. There is also the option for drivers to hide private personal trips if your company permits them.
Drivers can use this insight to evaluate whether they are driving safely and efficiently at all times and see for themselves where improvements are needed.
You can set up to give access to all of your drivers or only part of them, as well as which functions will be available, for example, Trips, Driving Behavior and/or Privacy mode. Drivers can then download the Driver App from Google's Play Store and follow some simple steps to register. The intuitive app presents all the information in appealing visuals for maximum ease.
Benefits include:
Improve driver safety - the app provides direct access to drivers' own trip history and performance. They will easily see when and how their driving can be improved for safer driving and lower fuel consumption.
Keep information secure - you can determine information access according to your company policy. Rest assured that drivers only have access to the data which you decide.
Dynamic feed of information - information on each trip is made available to drivers shortly after the trip ends so that drivers can review their trip performance immediately after the journey, for optimum engagement.
Engage drivers in your business goals and reward achievements - waiting until the end of the month for driving behavior reports will become a thing of the past; the app empowers drivers with almost immediate feedback and recommendations.
For more information regarding the new Frotcom Driver App, visit our website.
Post tags:
Driver app
Frotcom
Fleet management
Safe Driving
Driving behavior
Fuel consumption
GPS vehicle tracking
Google Play Store