Frotcom Spain's Country Manager speaks to Transporte Profesional about the challenges faced during the COVID-19 crisis
In an interview with Transporte Profesional, Eduardo de Antonio shared his experience and spoke about the challenges he is experiencing caused by the COVID-19 crisis.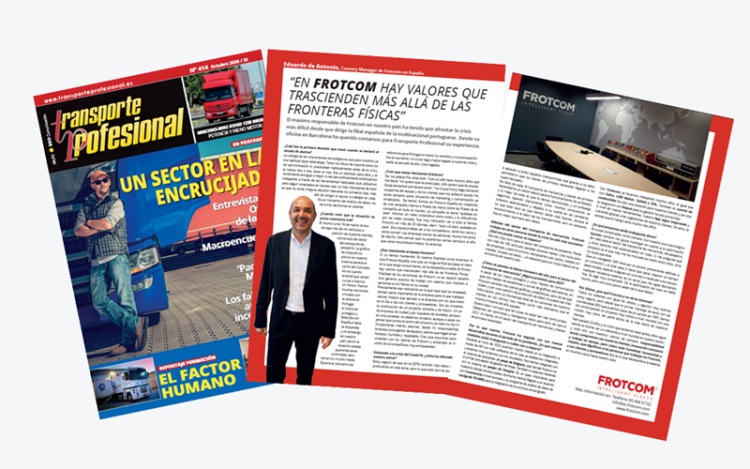 In the interview published by the Spanish transports magazine, Eduardo de Antonio mentions how he has had to face the most challenging crisis since he became a Frotcom Certified Partner due to the COVID-19 pandemic.
Shortly after the state of emergency has been declared, the first decision he made was to put Frotcom Spain's team working remotely to ensure everyone's safety.
The team quickly realized the situation was serious when there were practically no active vehicles, and more than 1000 devices were canceled at clients' request, mainly in the transport sector. "That's when I understood that curves were ahead, and we were going non-stop", he said.
In response to this scenario, Eduardo remained "cool-headed, above all else" and spent his time taking care of the team and clients who needed help. The marketing and communication projects kept ongoing. At the end of March, Frotcom created an internal campaign among the subsidiaries and partner companies throughout the world called "Stay Safe".
"We made a corporate video with everyone and shared it on social media. It was very encouraging to see the whole Frotcom family in several languages saying: Stay safe. Everything will be alright".
Also, the Frotcom Spain team was kept intact, and the same happened in all Frotcom partners in Europe.
"At Frotcom, we have values that transcend beyond physical boundaries. The purpose of Frotcom's shareholders is not distributing profits but to create jobs with wages that motivate people to live happily in their cities. It's precisely that motivation that makes employees feel like an important part of the company they work for, and the inherent values they bring to the company are what they convey to our clients and suppliers on a daily basis", said the leader of Frotcom Spain.
In the interview, Eduardo also mentioned the new Frotcom developments launched during 2020, like the road toll system integration with BG Toll and HU-GO, the integration with TIS-Web®, and the most recent Frotcom integrations with Sixfold, NIC-Place, and Repsol.
Eduardo concluded the interview by saying that "It's been 23 years [of Frotcom in the market], and the vision we had so many years ago is still the same. To be a worldwide reference in our industry and do it all with our same values as always: social responsibility, commitment to our clients, constant innovation, and teamwork, but above all, humility, honesty, and respect, which dignify the people who work at Frotcom, their clients and suppliers. That's what tips the scales in our direction in many cases."  
We invite you to read the full interview:
In English
In Spanish (original language)
Post tags:
Frotcom
Frotcom Spain
Frotcom Certified Partner
Fleet management
COVID-19
Transporte Profesional
HU-GO
API integrations
Integration with TIS-Web
Sixfold
NIC-Place
Repsol