Latin America prepares to transition to electric vehicles
The replacement of diesel buses and cars with electric ones in Latin America will soon be a reality, leading to cleaner air and greenhouse gas emissions reduction in the region.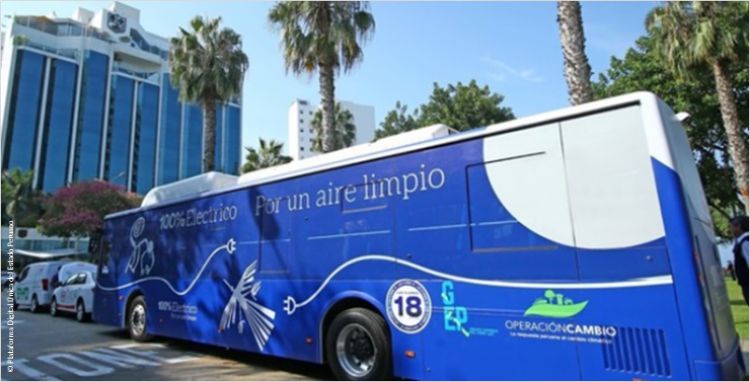 Cleaner air has benefits for both public health and the economy, which has become increasingly evident for populations of large cities in Latin America living with low-quality air.
One of the most recent examples of this transition in Latin America is Peru, with the Ministry of Energy and Mining (Minem) approval of a Supreme Decree to implement the future charging and energy supply infrastructure for electric mobility. The new project will allow private charging of vehicles without commercial purposes, which will involve creating recharging points in homes, work centers, family buildings, commercial premises, and private parking lots.
It is expected that this measure will strengthen the electric vehicle market and encourage the use of hybrid models and others with extended autonomy that use environmentally friendly energy which is not harmful to public health. Also, it will reduce the country's oil dependence.
Another step towards the transition to electric cars is the Minem goal to ensure that by 2030, 5% of the total number of light vehicles and buses operating in the country use electricity. The approved decree will help achieve this goal. It allows charging infrastructure establishments to access the free electricity market, thus gaining more competitive prices to invest in electric vehicles (EV).
The Ministry of Energy and Mining had already declared its intention for Peru to go green in 2020, recognizing the national importance of electric mobility.
 
Government-pushing incentives towards electric vehicles transition
One determinant factor for Latin America to transition to electric mobility is government incentives. Some of the needed incentives in the region are:
 
One determinant factor for Latin America to transition to electric mobility is government incentives. Some of the needed incentives in the region are:
Exemption or reduction of vehicle import taxes;
Incentives related to the use and circulation of vehicles (tax incentives for ownership and circulation);
Lower toll rates.
The most common incentive is the exemption or reduction of vehicle import taxes. Latin American countries like Colombia, Costa Rica, Ecuador, Mexico, and Paraguay already have tax breaks on purchases, while Peru, the Dominican Republic, and Uruguay have partially implemented this strategy. Panama is a little behind in the race and is still working to implement these incentives fully.
For fleet managers operating in Latin America, there are thus some things to be mindful of when it comes to transitioning a fleet to EV's:
 
The ongoing initiatives regarding electrification underway at the federal, state, and municipal levels;
The recharging infrastructure available;
The fuel and electricity comparative prices;
Other electric mobility influential factors. 
In short, if, as a fleet manager, you are evaluating the feasibility of electrifying your fleet, you must keep up with the government incentives available to ensure that you enjoy the most significant possible benefits of switching to electric vehicles.
Source:
GlobalFleet
Plataforma Digital Única del Estado Peruano
Post tags:
Electric vehicles
EVs
EV transition
EV acceleration
Hybrid vehicles
Electromobility
Air quality
Latin America
Peru
Taxation
Legislation
Minem