Transportes 77 improves its fleet performance using Frotcom
Making the most of Frotcom's features, the Peruvian distribution company can now provide a high level of service and achieve greater productivity and control over its fleet.
Transportes 77 is a Peruvian distribution company of the AB InBev Group, which markets renowned beer brands and operates in several countries. Today, Transportes 77 has more than 500 vehicles equipped with Frotcom's fleet management software distributing raw materials, final products, and crystal bottles between factories and distribution centers.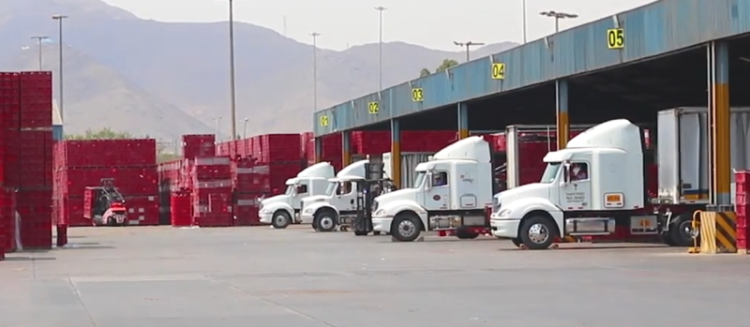 Transportes 77 had several goals that intended to achieve through a fleet management system, namely:
 
Improve its fleet safety;
Manage its operations in real-time;
Ensure safe driving and its drivers' well-being;
Have telemetry information for better fleet maintenance management.
Another major challenge Transportes 77 presented to Frotcom was the need to monitor driving habits through distinct alarms. With this capacity, the distribution company could act accordingly and on time in events such as speeding, braking, turning, harsh acceleration, and others.
 
Frotcom Peru won the AB InBev project to implement the fleet management system in the larger trucks of Transportes 77. Since then, it has been supporting the distribution company in managing and monitoring its fleet successfully.
Ernesto Talavera, Transportes 77 Transportation Manager, thus highlighted the advantages of Frotcom:  "One of the countless advantages we have with Frotcom software is that it allows us to manage alarms by the level of severity and monitor all the drivers and vehicles in the same platform. This has proved to be extremely useful responding to all situations that require our attention."
In addition, Frotcom's Driving times monitoring allowed the company to control each team's driving hours with RFID card readers to identify drivers. This technology permitted Transportes 77 to reduce fatigue events through effective monitoring of drivers' working days.
With the Driving behavior analysis module, Transportes 77 can quickly identify drivers and assess their behavior while driving. Moreover, it is possible to measure driving behavior such as braking, acceleration, sharp twists and turns, or speeding, enabling the company to rank all drivers.
By connecting Frotcom to the CANBus circuit in its vehicles, Transportes 77 can access fleet information such as fuel consumption, trip mileage, rotations per minute, and engine temperature. This is extremely important for maintenance management, as the extracted data allows identifying vehicle malfunctions, lowering maintenance costs, and improve vehicle usage and fuel efficiency. Also, Frotcom software allows configuring alarms for vehicle maintenance and upcoming services.
As a final point, the "Arrivals and Departures" view* helped Transportes 77 detail their routes with Scheduled, Estimated, and Actual times of departure and arrival from and to each company location. The result was an improved view over the company's fleet in real-time, increasing fleet productivity and guaranteeing a high-level service.
"In Peru, we are convinced that the implementation of technology is a key element for the future of our logistics. Together with the logistics transformation area, we have implemented the "Arrivals and Departures" feature for large truck operations that gives us real-time visibility of our fleet and helps our productivity," stated the Logistics Director, Ivan Sanchez.
We invite you to watch the video developed by AB InBev Group, Transportes 77, and Frotcom Peru to show the success of this implementation:
 
If your company wants to provide a high level of service, achieve greater productivity, gain control over its fleet, contact a member of our team, and start making the most of your fleet with our fleet management software.
 
* The "Arrivals and Departures view" is one of the most recent Frotcom developments and works as an airport view of all arrivals and departures, automatically showing updated information, including estimated times of arrival, delayed arrivals, etc.
Post tags:
Transportes 77
Frotcom
Frotcom Peru
Case study
Driving behavior analysis
Fleet alarms
Driving times monitoring
CANBus data
Fleet management
GPS vehicle tracking
Better driving behavior
Better control over fleet
Better control of driving times
Better customer service