New Real-time tracking mode is now available in Frotcom
Frotcom is pleased to announce Frotcom's new real-time tracking, in which GPS and vehicle data are collected and made available to users on a second by second basis*.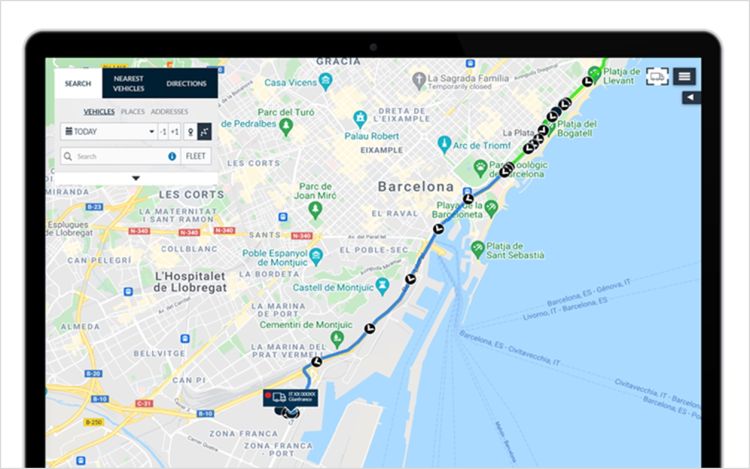 Frotcom's new Real-time tracking is Frotcom's top-of-the-line tracking mode. In what exact location are the vehicles of my fleet? At what exact speeds are they traveling?
 
With Frotcom's new Real-time tracking, GPS and vehicle data are collected and made available to users in real-time, when moving. The information is processed in Frotcom's data center and sent to the users' browsers, showing only a few seconds later.
 
The real-time information is shown on maps and graphs in Frotcom's web interface.
 
Benefits for both customers and fleet managers
The real-time tracking mode is ideal for fleets traveling in cities or transporting valuable goods, where it is necessary to know the vehicle's exact location, second by second. For instance, if you run a fleet of taxis, you will always see the taxi cab nearest to any pick-up point. 
Emergency vehicle fleets can also benefit from the new real-time tracking significantly. By using it, emergency vehicle fleet managers can know right away the time remaining until the vehicles reach the accident site or the hospital. They can also know the exact moment when a vehicle enters an area or even a congested street, which is a factor that can interfere with the arrival time. 
Once associated with Frotcom's Extended CANBus Collection module, it gives you a fantastic set of insights about tens of parameters in the vehicle. Ultimately, the association of Real-time tracking and Extended CANBus Collection allows companies to coach their drivers to improve driving performance, resulting in immediate fuel cost and maintenance cost reductions.
 
Main features of Real-time tracking
Receive positions and speed from the vehicles in real-time (approximately once every second);
Show the full path on the map with maximum accuracy;
See the positions of individual vehicles or the entire fleet in real-time, with auto-center mode available for easier control;
View speed graphs with utmost precision and changing in real-time;
Associate Extended CANBus Collection to extract other parameters from your trucks in real-time (coming soon).
For more information regarding this and other Frotcom features, contact a member of our team.
 
* Approximate frequency. The exact periodicity depends on several factors.
Post tags:
Frotcom
Real-time tracking
Features
Fleet management software
GPS vehicle tracking
Fleet data
Fleet performance
Vehicle data
Data analysis
Business intelligence
Intelligent fleets