Fours Cash & Carry optimizes its fleet productivity using Frotcom
With the help of Frotcom, Fours Cash & Carry reduced costs and improved control over its fleet, making it more cost-effective.
Founded in 2013, Fours Cash & Carry is a leading player in Botswana's Fast Moving Consumer Goods (FMCG) market. The food retailer and distribution company offers a variety of branded products, and for the convenience of its wide range of customers, it is open all year.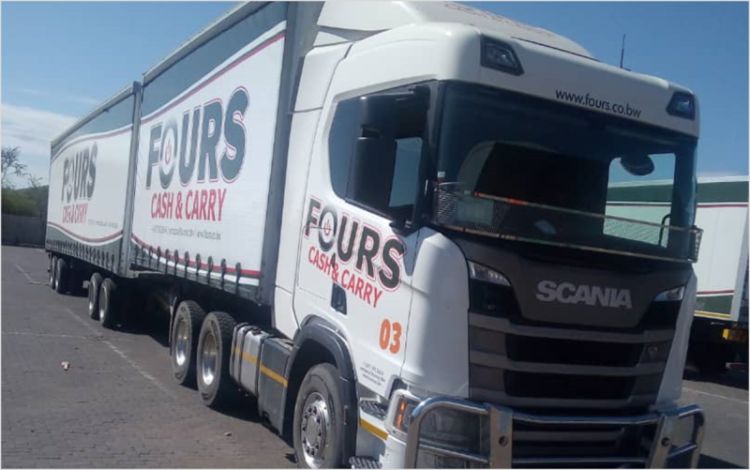 To better monitor all of its fleet activities, Fours Cash &Carry was searching for a fleet management system that would help them achieve the following goals:
 
Improve tracking and delivery control
Be able to predict the location of fleet vehicles
Improve driving behavior and safety
Monitor fuel consumption
To achieve these goals and thus improve its fleet management, the company considered Frotcom the right solution due to its features and the quality of the service and support provided. Today, Fours Cash & Carry has 33 vehicles equipped with Frotcom.
Frotcom features such as Driving behavior analysis and Fleet alarms allow Fours Cash & Carry to access valuable information to manage their vehicles and drivers more efficiently and quickly identify unauthorized trips. According to the client, Frotcom has improved its fleet productivity since they can now choose the Nearest Vehicle that best suits each job based on real-time fleet information.
Moreover, since implementing Frotcom's Fuel management, the company can monitor fuel consumption and identify drainage in its fleet, thus reducing fuel costs.
William Gouws, warehouse manager at Fours Cash & Carry, said: "The Frotcom team installed the tracking devices quickly and efficiently. In addition, the training process was of excellent quality, allowing us to understand the system, and all questions were promptly answered. The team also trained us on how to use Frotcom's Cost management feature, which we will use in the future to manage costs and control the budget allocated to vehicles and the amount spent on them."
Ultimately, Fours Cash & Carry achieved its fleet management goals through Frotcom features and the service and support provided, improving control over its vehicles and drivers and making fleet activities more productive and cost-effective.
Find out how Frotcom is helping companies intuitively optimize their fleet performance.
Post tags:
Fours Cash & Carry
Frotcom
Frotcom Botswana
Case study
Driving behavior analysis
Fuel management
Fleet alarms
Nearest vehicles
Optimized productivity
Detection of unauthorized use of vehicles
Cost reduction in fuel
Effective fleet management