Deus B&B reduces fuel costs and improves fleet performance with Frotcom
Since using Frotcom, the North Macedonian road transport company has achieved a 10-15% reduction in fuel costs and improved delivery times, driver productivity, and driving conditions within its fleet.
Deus B&B was established in 1998 due to a family initiative and is one of the leading transport companies in North Macedonia. Since its beginning, the company has been in constant expansion and currently counts with a trained team and vehicles that ensure high quality, fast, and reliable transport services throughout Europe.
The international transport company specializes in moving large and heavy loads with heights of up to 3 meters and regularly ensures shipments from and to the United Kingdom, as well as the Netherlands, Austria, Belgium, France, Germany, Switzerland, Spain, Serbia, Croatia, Kosovo, Albania, and Slovenia.
Deus B&B also invests in the latest technologies, equipment, and logistics infrastructure to ensure maximum efficiency in compliance with international standard services. Today, the company has 42 vehicles using Frotcom for accurate tracking and 24-hour contact with drivers.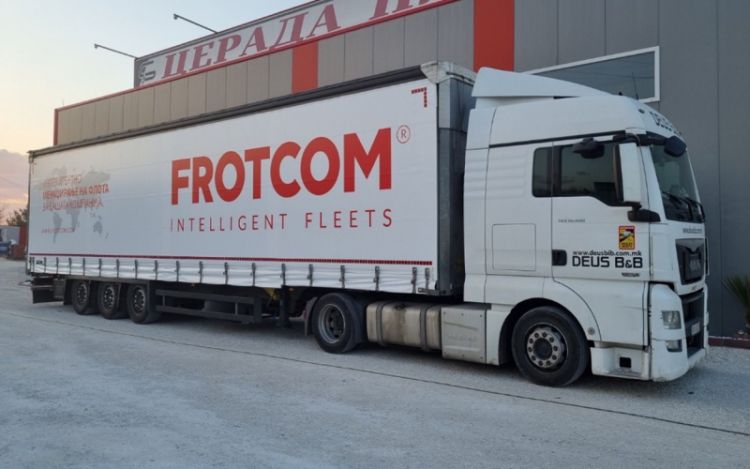 Deus B&B was looking for an intelligent fleet management system that could help them achieve its goals, namely:
 
Increase fleet productivity;
Reduce overall fleet costs.
Due to the service and support offered and the benefits provided by its features, Frotcom was the preferred solution to overcome the company's challenges. 
After a fast and successful implementation process that included top-notch training and technical support, the company started to make the most of Frotcom's fleet management system.
According to Deus B&B, Frotcom features allowed them to enjoy several benefits, such as:
 
The ability to monitor its fleet in real-time; 
Time-saving in all fleet activities; 
Improved fleet cost management;
Accurate fuel management;
Reduced maintenance costs;
Better monitoring of fleet drivers' driving behavior;
Improved drivers' productivity and driving conditions;
Improved time of arrival and delivery of goods to its associates.
Moreover, using Frotcom's Fuel management, the company reduced its fuel costs by 10-15%.
Zoran Simonovski, Fleet manager and Accounting at Deus B&B, shared some thoughts on the company's favorite Frotcom features:
"We can give our opinion on several Frotcom features which we think are among the best:
 
Integrated navigation, which enables us to track and assign routes;
Fuel management, which allows us to accurately monitor the level and average fuel consumption of the CANbus simultaneously with the fuel sensors;
API integration with external software, namely with the real-time visibility platform Sixfold. This premium partnership provides us with an easier and quicker carrier onboarding."
He also stated that "Collaborating with Frotcom was, from the very beginning until today, excellent and at a very high level. After Frotcom's implementation, the team provided us with appropriate training and technical support. Whenever we needed it, we had it. So, we know, and we are sure, that it will be the same in the future."
Ultimately, the chosen features allowed the company to take full advantage of Frotcom, achieving the defined goals and many other benefits.
If your company is also facing these or similar challenges, contact a member of our team, and start making the most of your fleet with our fleet management software.
Post tags:
Deus B&B
Frotcom
Frotcom North Macedonia
Case study
Intelligent fleets
Fleet management software
Driving behavior analysis
Fleet alarms
Remote tachograph download
Fuel management
Fleet cost management
Integrated navigation system
Route planning and monitoring
Better driving behavior
Fleet control increased
Fuel consumption reduction
Fuel costs reduction
Improved fleet performance