Automatic Driver Id: Full knowledge about fleet vehicles' usage
Frotcom's Automatic driver identification helps you identify who drives your vehicles and when, allowing you to reduce the risk of vehicle misuse, which often leads to increasing fleet costs.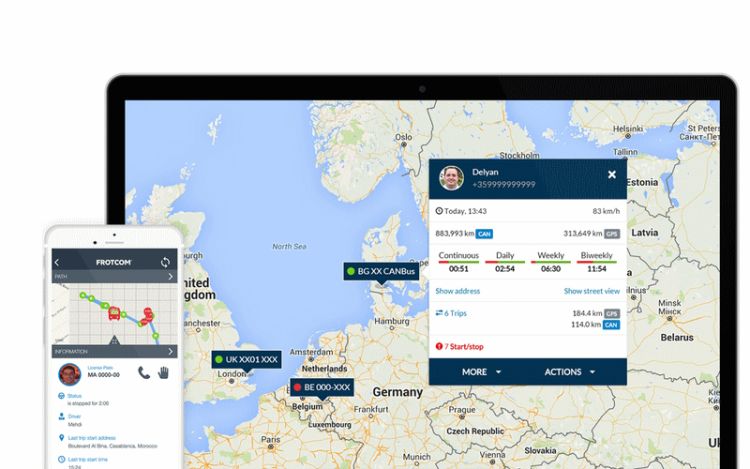 With the help of Frotcom's Automatic driver identification system, you can accurately register each driver's trip and identify which drivers are operating your vehicles at any given time. In addition, it allows you to receive an alarm if an unidentified driver starts a trip. Ultimately, this feature will enable you to take the necessary actions, such as correcting your drivers' driving behavior to reduce risks in your fleet and eliminate extra expenses caused by vehicle misuse.
The fact that this Frotcom feature records and communicates drivers' driving times to the office also ensures compliance with driver legislation like "duty of care" and "working time limits". Moreover, it allows you to automate payrolls, as it records the mileage driven by each driver and automatically calculates the corresponding pay.
How does Automatic driver identification work?
Frotcom's Automatic driver identification system uses different methods to identify drivers, depending on your fleet's specific needs.
One of the methods used is a personal iButton emitter. To be identified before starting a new journey, the driver only needs to touch the iButton reader with the iButton emitter.
Another alternative is to use an RFID card. To be identified through this method, drivers must hold their RFID card close to the RFID receiver.
Also, if your fleet operates in Europe, Frotcom can identify your drivers through tachograph driver cards when they insert their cards into the digital tachographs of your vehicles.
If your company already uses Frotcom's Workforce management, drivers are identified when logging in to the app.
Lastly, drivers can select the vehicle they are using in the Driver App. QR codes can be used to make this operation quick and simple, by pointing the phone's camera to a QR code sticked to the vehicle's dashboard. Trailers can also be identified and associated this way.
There is also the option of having an immobilizer fitted in the vehicle that reacts to the driver's automatic identification.
We invite you to read the article on our blog if you want to know more about how to "Improve fleet productivity and efficiency with an Automatic Driver ID system".
Post tags:
Frotcom
Automatic driver identification
Driver identification
Driving behavior
Driver authorization
Intelligent fleets
Fleet management
GPS vehicle tracking