Electric Buses: China's success story
Know how China has become responsible for the electrification of land-based public transport fleets worldwide and what strategies electric vehicle (EV) manufacturers have used.
Electric public transportation buses are becoming more common in cities around the world. China unquestionably stands out for the large number of vehicles produced, exported, and used in its transport systems.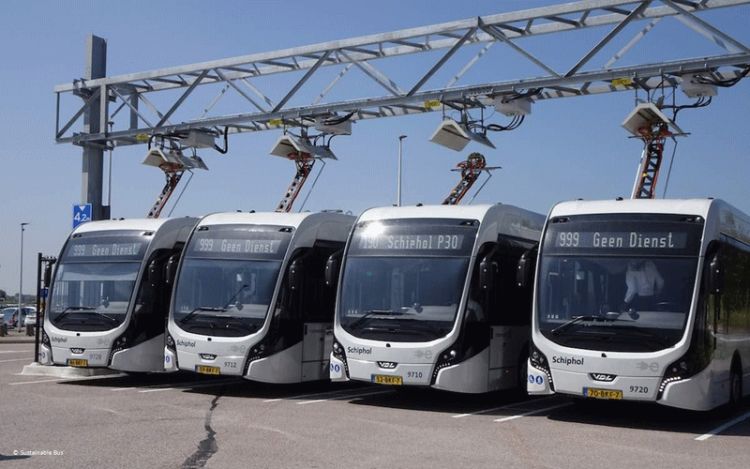 The Chinese success can be attributed to the country's electric bus manufacturers having a competitive first-mover advantage. The Chinese government recognized early on that diesel-powered vehicles were the most significant contributors to the country's pollution. They also identified e-buses as the solution to reducing fuel consumption, which is an important factor, particularly for China, which relies heavily on oil imports.
The first steps were taken in 2009 when Shenzhen was chosen to participate in a zero-emissions program due to poor air quality. BYD, one of China's most influential electric and hybrid car manufacturers, launched its first electric buses in 2011. In 2018, Shenzhen became the world's first city to have an all-electric public bus fleet. The country's success is evident when we look at the data for 2017, when China owned about 99% of the world's 385,000 existing electric buses and added about 9,500 new zero-emission buses every five weeks.
However, it is essential to note that this rapid advance in the Chinese fleet electrification was made possible by strong government support, as happened, for example, in Shenzhen:
The provision of a subsidy to a local public bus operator of about 500,000 yuan (USD 72,150) for each vehicle that ran each year and a further 500,000 yuan for buses that ran more than 60,000 km;
The government subsidies covered about half of the total CAPEX per unit;
The construction of 500 charging stations with the capacity to charge about half of the city's fleet at once.
Another clear point contributing to China's dominance in the electric vehicle (EV) sector is its geographic proximity strategy. The Asia Pacific region, for example, was by far the largest market for electric buses in 2022 (105,021 units), as were other adjacent markets, such as South Korea, where Chinese buses accounted for roughly half of the market. Besides that, as of 2022, Chinese giant BYD produced approximately 70% of Japan's electric buses.
Creating local cooperation agreements is likewise a strong instrument used by Chinese companies since localizing production and employing locals can garner the necessary political support. BYD heavily relies on foreign joint ventures, most recently partnering with India to provide key technical support for its buses and to bring 2000 new vehicles into service by 2023. Also, China has agreed with the United Kingdom (UK) to supply bus chassis, batteries, and traction core technology.
Given the threat to deliveries in the USA, where a ban on federal transit funding for manufacturers with ties to China has been in effect since 2021, BYD has chosen to focus on Europe and is currently expanding its e-bus factory in Hungary under the "Made in Europe for Europe" principle. This expansion is expected to exceed the company's production capacity fivefold to 1,000 electric buses per year.
With no longer having such a strong first-mover advantage, China's localization strategies and access to local subsidies will be increasingly crucial for the country to continue its successful path in the electric bus industry.
Source:
Post tags:
Frotcom
China
E-buses
Electric bus industry
EVs
Electric vehicles
Fleet electrification
Chinese fleet electrification