New Frotcom Integration with ContiPressureCheck™
Reduce your overall operating costs by automatically controlling the tire pressure of your fleet vehicles.
Frotcom is now integrated with Continental's tire monitoring system, ContiPressureCheck™. This system continuously monitors the pressure and temperature of all your vehicles' tires.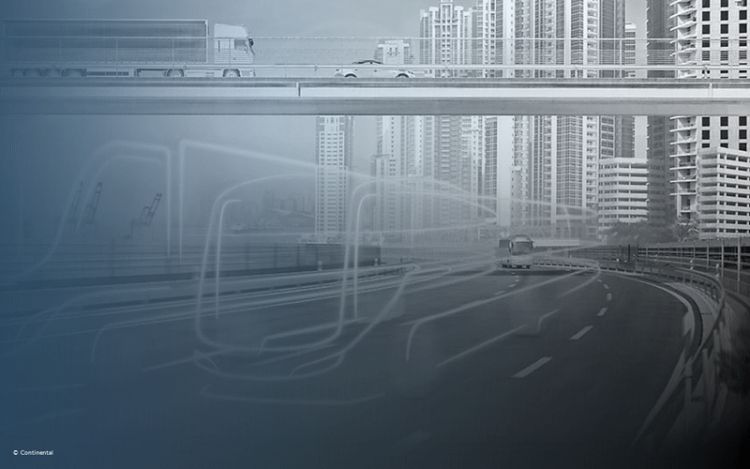 Once connected to Continental's ContiPressureCheck™ tire monitoring system, Frotcom allows you to monitor each tire's pressure and temperature.
What are the main benefits for fleet managers?
With this new integration, you will permanently and effortlessly monitor the condition of fleet tires, which translates into several benefits:
    Reduced operating costs - as maintaining the correct air pressure reduces fuel consumption and the corresponding cost.
    Increased security and reduced downtime - by avoiding tire-related breakdowns that often lead to vehicle downtimes, job delays, and even accidents.
    Longer tire life - maintaining the recommended conditions increase each tire's mileage, the value of its casing, and, therefore, its retreadability.
    An eco-friendly behavior - traveling with the proper tire inflation pressure reduces fuel consumption, tire wear, and CO2 emissions.
    More freedom for drivers to engage in other activities - since tire pressure monitoring is done automatically, they can spend their time on other equally important activities.
By monitoring your tires on a permanent basis, even while traveling, you will lower your operating costs* and minimize the risk of tire failure.
*According to Continental, you can actively reduce operating costs by up to EUR 1,500 per vehicle a year. This calculation is based on a 4 x 2 tractor with a three-axle semi-trailer, driving 140,000 km per year (the assumed price of diesel: 1 € / L), and including an estimated cost of EUR 700, also per year, for one tire-related breakdown incident.
If you would like to know more about this or other Frotcom integrations, contact a member of our team.
Post tags:
Frotcom
Continental
ContiPressureCheck™
API integration
Tires
Fleet management
Intelligent fleets
Efficient fuel management
Check tire pressure
Tire maintenance
Frotcom integrations