Frotcom holds its 13th annual meeting in Greece
Frotcom organized its 13th Annual Meeting by the sea in Greece, bringing together Certified Partners in a three-day event filled with laughter, shared experiences, and tight bonds.
The 13th Annual Frotcom Meeting took place from May 25 to 27 in a true Greek paradise!
The meeting was held at the Dolce by Wyndham Athens Attica Riviera Hotel in Attica, Greece, a 4-star hotel on the beachfront of Vravrona Bay. It was the perfect location to bring together our Frotcom partners from around the world for an unforgettable weekend.
This year's Frotcom Annual Meeting was undoubtedly an occasion to discuss the global fleet management market and the challenges facing Frotcom. For our partners, it was also a unique opportunity to share insights into the fleet management market and to discuss Frotcom's strategy for 2023-2024.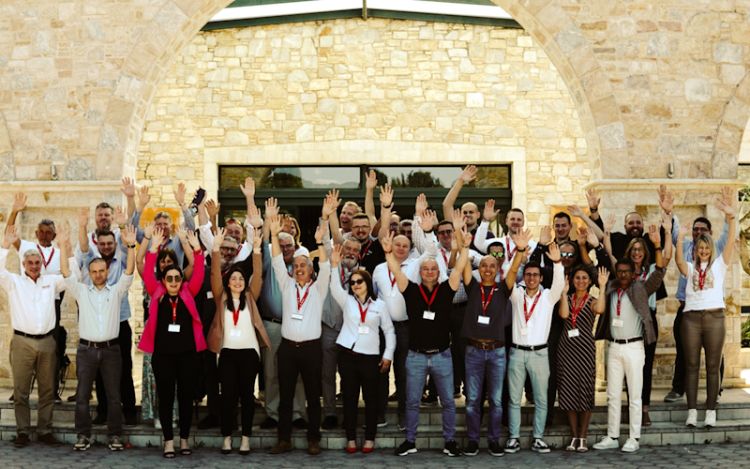 The three-day event was filled with moments of companionship and shared experiences on best practices and innovations for the future among all participants. On the morning of the last day, Frotcom International challenged its Certified Partners to an outdoor activity, strengthening the bonds between everyone, which led to lots of fun and laughter!
Nasos Sideris, CEO of Frotcom Greece said that "As Frotcom Partner in Greece, I was delighted to welcome the Frotcom Annual Meeting in Attica. It was an excellent opportunity to connect with Frotcom's Team and other certified partners worldwide, share knowledge, and learn about the latest updates and features
The presentations and discussions were highly informative and relevant to our business, and I appreciated the opportunity to exchange ideas and insights with other partners. It was evident that Frotcom is committed to providing the best possible experience for its partners and customers, and I left the event feeling energized and excited about the future.
The event's organization was impeccable, and I would like to thank the Frotcom team for their hard work and dedication in making it a success. I highly recommend the Frotcom Annual Meeting to any current or potential certified partners looking to take their business to the next level."
Post tags:
Frotcom
Frotcom Annual Meeting
Frotcom Certified Partner
Greece
GPS vehicle tracking
Fleet management system