Cruz del Sur significantly improves its fleet operations using Frotcom
By leveraging a multitude of Frotcom features, Cruz del Sur witnessed a transformation in fleet performance and safety standards.
Cruz del Sur is a Peruvian land passenger transport company operating in Latin America with interprovincial buses. The company has one of the most modern fleets in Peru and has offered travel services inside and outside the country for more than 60 years, ensuring punctuality, safety, and comfort for its passengers. These are the pillars for which they strive every day. Cruz del Sur fleet currently has 150 vehicles equipped with Frotcom traveling through Peru, Argentina, Chile, Ecuador, and Colombia.

 
Cruz del Sur had a primary goal of improving the performance of its fleet operations. To accomplish this objective, they needed an intelligent fleet management system that would allow them to:
Efficiently handle telemetry data;
Timely response to detected deviations;
Track their fleet across national and international territories in real time;
Ensure compliance with regulations set by SUTRAN, MTC, and Osinergmin*.
By using Frotcom in its fleet, Cruz del Sur achieved its fleet management goals and benefited from additional advantages, exceeding its expectations.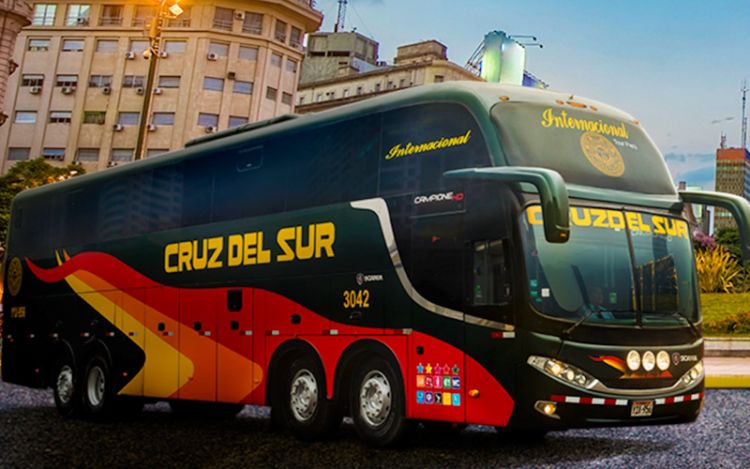 Through Frotcom's Route planning and monitoring, Cruz del Sur witnessed tangible improvements in fleet arrival times, benefiting from precise route planning that streamlined journeys for timely arrivals and heightened customer satisfaction. The Driving behavior analysis feature further advanced safety by cultivating prudent driving practices, adhering to stringent parameters and internal policies, and effectively mitigating driver fatigue and potential accidents.
Moreover, Frotcom' empowered Cruz del Sur to exercise meticulous control over driving times, proactively diminishing fatigue-related risks, enhancing safety measures, and nurturing a culture of responsibility and driver well-being within the organization.
Using the Driver app and API integration, Cruz del Sur established an intuitive and effective interface between their platforms and Frotcom's fleet management system. This integration facilitated access to real-time fleet information, empowering Cruz del Sur with timely insights into its operations and enhancing operational efficiency.
With Frotcom, the Peruvian company has also improved its telemetry data handling capacity. Cruz del Sur now has a detailed view of crucial metrics, enabling data-driven decision-making for continuous improvement.
Frotcom's compliance with Peruvian regulatory entities, such as SUTRAN, MTC, and Osinergmin, fortified Cruz del Sur's adherence to legal standards, enhancing the company's credibility and avoiding potential legal issues.
Juan Antonio Ferrúa Vivanco, Cruz del Sur Operations Manager, shared some thoughts about Frotcom:
"With Frotcom, we have saved money since the beginning of the contract. Frotcom promptly addresses the client's needs, and the after-sales service has been very effective. For us, it is not just a GPS but an integration into Cruz del Sur processes. The Frotcom team's support has always been immediate and personalized, and the training has been continuous and unlimited. Frotcom fits perfectly with our business vision and has exceeded our expectations."
With Frotcom, Cruz del Sur now has a more efficient, intelligent, and cost-effective fleet. Based on the latest technology, the modular and parameterizable nature of Frotcom ensures easy adaptation of our solution to Cruz del Sur's future requirements.
If your company is also facing these or similar challenges, contact a member of our team and start making the most of your fleet with our fleet management software.
* In Peru, SUTRAN refers to the Superintendence of Land Transportation of Persons, Cargo, and Merchandise, an entity in charge of supervising and regulating land transportation in the country. Its main function is to guarantee road safety and the quality of land transport services for people and goods.
MTC refers to the Ministry of Transportation and Communications, the Peruvian government entity in charge of formulating and supervising the country's transportation and communications policies and regulations. The MTC has an important role in the planning, regulating, and developing transport and communication infrastructures.
Osinergmin is the acronym for the Supervisory Agency for Investment in Energy and Mining. It is an entity that supervises and regulates Peru's energy and mining sectors. Osinergmin is responsible for guaranteeing the adequate provision of public services in these sectors, promoting competition, and protecting users' rights.
These three entities play crucial roles in the regulation, supervision, and development of the land transport and energy sectors in Peru.
Post tags:
Cruz del Sur
Frotcom
Frotcom Peru
Case study
Driving behavior analysis
Route planning and monitoring
API integration
Driver app
Improved fleet performance
Improved fleet control
Real-time tracking
Improved fleet management
Control driving times
Fleet management system