Passenger Land Transportation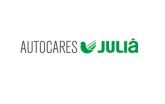 Spain's Autocares Julià had a smooth transition into Frotcom's fleet management solution, improving overall efficiency and without upsetting its business processes.

Part of the Julià Group, Cataluña-born Autocares Julià is today a leading passenger transportation company, catering to intercity, interstate, and interurban bus lines. The company serves travel agencies, tour operators, schools, conference organizers, businesses, and individual customers throughout Spain, and in recent years has seen its business expand across four continents.
Client Goals and Challenges
Since using Frotcom, the North Macedonian road transport company has achieved a 10-15% reduction in fuel costs and improved delivery times, driver productivity, and driving conditions within its fleet.
Deus B&B was established in 1998 due to a family initiative and is one of the leading transport companies in North Macedonia. Since its beginning, the company has been in constant expansion and currently counts with a trained team and vehicles that ensure high quality, fast, and reliable transport services throughout Europe.

The international transport company specializes in moving large and heavy loads with heights of up to 3 meters and regularly ensures shipments from and to the United Kingdom, as well as the Netherlands, Austria, Belgium, France, Germany, Switzerland, Spain, Serbia, Croatia, Kosovo, Albania, and Slovenia.