A. Zorbas & Sons increased its fleet productivity and reduced fuel and maintenance costs with Frotcom
Fleet cost management | Driving behavior analysis | Fuel management | Integrated navigation system
The Cypriot group improved fleet productivity, decreased costs, and can now monitor its fleet and drivers in real-time by using various Frotcom features.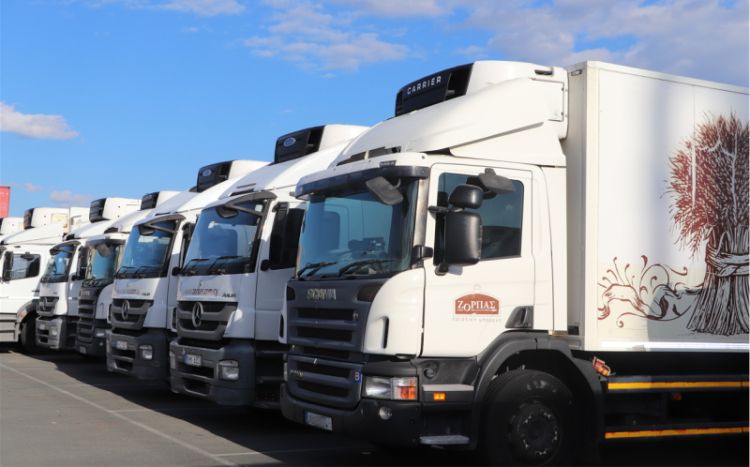 A. Zorbas & Sons was established in 1975 when Mr. Andreas Zorbas decided, under demanding circumstances, to operate a small bakery in the backyard of his home in Athienou. After forty-five years, the small bakery has grown to become one of Cyprus's most trusted food production and retail businesses. 
The Zorbas group currently has over 2,500 members and a retail network of 85 selling points, 61 of which are all-day bakeries in Cyprus and two artisan bakeries in the United States.
The group also owns ZORBAS bakeries, Pralina confectioneries, Pralina Experience all-day restaurants, Coffee Berry coffee shops, and The French Workshop artisan bakeries.
Client Goals and Challenges
A. Zorbas & Sons was looking for a reliable and intuitive fleet management system to access real-time data regarding its fleet and, therefore, improve its productivity. Due to its great diversity of features and the support offered, Frotcom was the chosen solution to meet A. Zorbas & Sons' fleet management goals. The Cypriot group currently has 110 vehicles successfully using Frotcom.
Client Benefits
After the implementation and training process by the Frotcom team, A. Zorbas & Sons began to use Frotcom and accomplished the defined goals.
Using features such as Fleet cost management, Fuel management, Integrated navigation, and others, A. Zorbas & Sons can now monitor its fleet in real-time. As a result of this closer monitoring, the company increased its fleet productivity, reduced fuel and maintenance costs, and now plans its fleet services and maintenance more effectively. 
The next endeavor will be to improve the fleet drivers' driving behavior using the Driving behavior analysis feature data, which the client is already using and believes will provide them with several benefits.
George Fiakas, A.Zorbas & Sons Supply Chain Manager, said: "Frotcom is a reliable, last-generation software with continuous improvements and updates. The Frotcom team has the necessary know-how, but the most vital aspect is their constant support and ability to solve all issues quickly. For the Frotcom team, when there is a will, there is a way, and they will find the solution no matter what."
Ultimately, we can state that the Zorbas group achieved its fleet management goals by using Frotcom's features and benefiting from the Frotcom team's support.
If your company is also facing these or similar challenges, contact a member of our team, and start making the most of your fleet with our fleet management software.