Providing better emergency response through Frotcom
Integrated navigation system | GPS vehicle tracking and sensor monitoring | Mobile workforce management
The Federazione Regionale delle Misericordie della Toscana is an association of over 300 local organizations, charities, and civic centers operating in and around the Italian region, which provides integrated civil, medical and emergency services.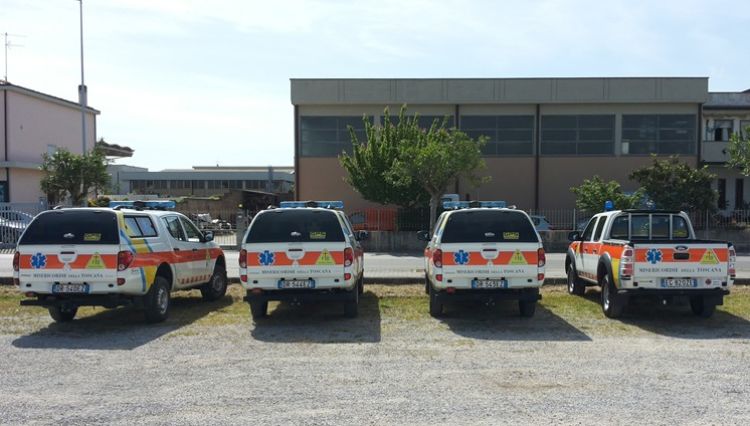 The association not only provides an integrated backbone service to its members but also coordinates with state and national authorities in disasters and accidents in the Tuscany area. This meant managing emergencies in a rapid and targeted fashion while diminishing operational response times and increasing coordination.
Looking for a geolocation solution, the Federazione contacted Frotcom Italy and, after an initial assessment period, the Integrated Navigation and Workforce management modules were the clear choices for the Misericordie's needs.
 
Client Goals and Challenges
Key to the clients' needs was a mean of quickly and efficiently managing a widespread and fast-moving fleet in often complicated and rapidly evolving emergency situations. The additional difficulty of operating in tandem with civil protection units and other services made information exchange another priority. Geolocalization and real-time positioning are critical, but the Frotcom solution added a host of time-saving and efficiency-enhancing tools. With Frotcom, operational status reporting, document fulfillment, data transfer, dispatch, and updates are available on any PC or mobile device.
"Today, our fleet is our most valuable asset, and we have a need to provide and collect real-time data to and from our fleet," said Mr. Federico Bonechi, Office Emergencies Director, at Federazione Regionale delle Misericordie della Toscana.
"Fleet Tracking, Workforce Management, and Integrated Navigation are fundamental in our operations - whether we look at the operational or the healthcare side of things. We have prided ourselves to be first in our service, and bringing on board the Frotcom fleet management and tracking solution will help us to continue leading emergency services in Tuscany. Routing our vehicles, optimizing the operational status of our resources, or simply better managing our vehicle downtime - it all comes down to providing a better service to the citizens of Tuscany," he concluded.
 
Client Benefits
Thanks to Frotcom's Integrated Navigation and Workforce Management modules, the Federazione can now send instant messages in emergency situations and respond even faster.  Furthermore, the system enables operators to personalize forms with attached photographs and electronic signatures for all tasks. This greatly reduces downtime, improves response times, and facilitates information exchange and coordination. With speed and information on operations being a life and death, the efficiency gains cannot be overstated.
Additionally, every message exchanged, form received, dispatch, and destination sent are stored for review and future necessity greatly diminishing paperwork and critical information loss.
Visit Misericordie della Toscana's corporate webpage for more information.