De Beers Angola Prospecting LTD - Because a diamond is forever…
Driving behavior analysis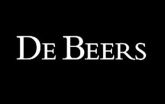 Established in 1888, De Beers is the world's leading rough diamond company with unrivaled expertise in the exploration, mining, and marketing of diamonds.
Together with its joint venture partners, De Beers operates in more than 20 countries across six continents, employing more than 13,000 people, and is the world's largest diamond producer with mining operations across Angola, Botswana, Namibia, South Africa, and Canada.

The Head Office in Angola is based in Luanda and the field operations are mainly based in the Lunda North province. The company has committed itself to Zero Harm to its employees, the community, and the environment. Various controls have been implemented in order to achieve this objective and, as light vehicles form an important part of the operation, their control is of utmost importance.
The Frotcom vehicle monitoring system was installed in early 2010 in all Luanda-based vehicles as well as in some vehicles allocated to the field operations which were used for long-distance traveling. The system enables 24/7 surveillance in terms of the whereabouts of the vehicles as well as the behavior of the drivers.
Law enforcement of driving habits and speed control in the country is still in its early days, but the Frotcom system enables the company to proactively introduce these controls, and a remarkable improvement in terms of vehicle usage and driver behavior has been noted since the system was installed.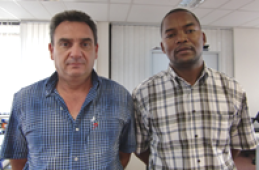 Mr. Fanie Terblanche, HSE Manager and Mr. Amâncio Leite, ECOHS Assistant
According to Mr. Fanie Terblanche, HSE Manager in De Beers Angola, "The system is currently managed and controlled through the Safety Department and, being a web-based program, it is easy to access irrespective of the controller's location. The technical support from Frotcom Angola is professional and they always deliver on time, which supports the company's objective of Zero Harm."
The company is also proud to announce that no serious accidents or incidents have been reported since the installation of the Frotcom vehicle control system.