Deni Internacional reduces costs by over 15% using Frotcom
Fleet alarms | CRM – Customer relationship management | Fuel management | Integrated navigation system
The transportation company achieved a substantial reduction in fuel consumption and communication costs and improved its delivery times.
Deni Internacional is a N. Macedonian company founded in 1991, specialized in road transportation and logistics services. The company currently has 151 vehicles for international and local distribution of different types of goods (palletized, non-palletized, and dangerous ADR materials) and 300 employees highly trained to conduct their tasks always to meet the clients' expectations.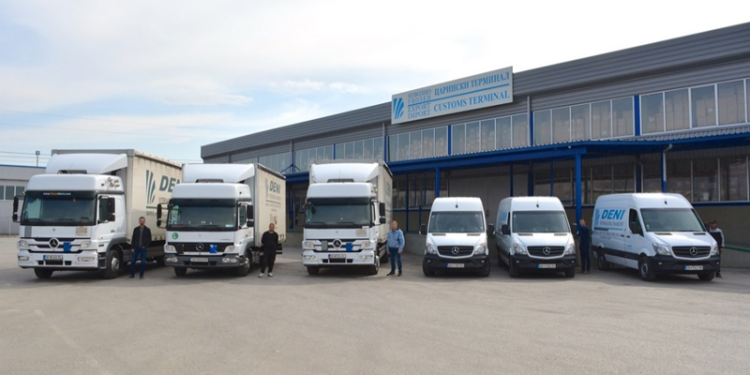 Client Goals and Challenges
The company's goal was to meet its clients' and partners' needs through high-quality service, following the quality standard ISO 9001:2008 implemented. When presented to a fleet management software, as Frotcom, Deni Internacional quickly requested installing the devices on their vehicles and receive the proper training to meet its fleet management goals.
 
Client Benefits
Deni Internacional now has a full view of the location of any vehicle of the fleet at every moment. They can communicate with the drivers via a navigator in the vehicle. Frotcom's Integrated navigation module is really helping the fleet management team at Deni Internacional, who can send destinations or messages to the vehicle's navigator and receive the reply back directly on Frotcom. Which, in turn, is decreasing the company's communication costs.
Customers are delighted to track their goods in real-time, as Deni Internacional can now send tracking tickets to clients, thanks to Frotcom's CRM (Customer relationship management) module.
By reading CANBus data through Frotcom, Deni Internacional can receive highly prioritized information about fuel consumption and mileage. Then, using Frotcom's Fuel Management module, the company observed almost immediately a substantial reduction in fuel consumption.
Fleet Alarms also help the road transportation company monitor its fleet better by detecting when something is not quite right.
As mentioned by Mr. Jane Popovski, Head of the Fleet Management department at Deni Internacional, "Frotcom helped us improve the transport of goods, as we now have insights into the location of all our vehicles in real-time and we can thus better organize all transportation services. We noticed a reduction in overhead costs by more than 15% and an improvement in the delivery times."
He also said that "The ability to read the CANBus data from the vehicles allows us to inspect each vehicle's fuel consumption and mileage for every trip. Another huge benefit is the possibility for an API connection with our TMS (Transport Management System), and the ability to connect with the TMS of our biggest clients, which saves time and workforce on both sides."
 
Frotcom is undoubtedly helping Deni Internacional reduce costs and to improve its business efficiency.
If your company is also facing these challenges, contact a member of our team, and start making the most of your fleet.
Visit the Deni Internacional corporate webpage.