Angolan waste collection company improves transport efficiency and fuel control using Frotcom
Waste Collection and Recycling
Fleet alarms | Automatic driver identification system | Fleet cost management | Driving behavior analysis | Fuel management
With Frotcom's help, LSU – Limpeza e Saneamento Urbano reduced costs, improved control over its fleet, and made it more efficient.
LSU – Limpeza e Saneamento Urbano is based in Viana de Luanda, Angola, and operates in waste management for over 12 years.
The waste collection company works with public and private entities in compliance with the rules and legislation in force. It offers an intelligent, high-quality solution with an excellent cost-benefit ratio for its customers.
LSU also counts with a qualified multidisciplinary team with extensive experience in the sector and currently operates with 23 vehicles equipped with Frotcom.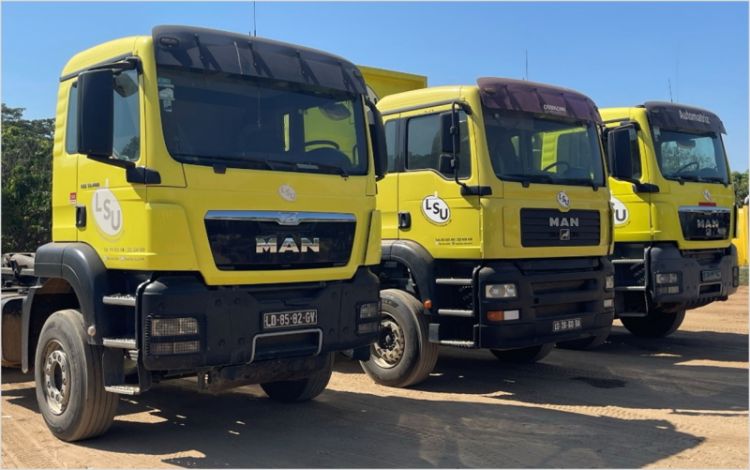 Client Goals and Challenges
To provide top-notch service to its customers and make its fleet operations more efficient, the company needed to achieve the following goals:
 
Have a better understanding of the response times in customer collections;
Better control their fuel costs.
To achieve these goals and improve service quality, LSU considered Frotcom the right solution due to its features, reliability, service and support, and flexibility in providing valuable data to manage their fleet.
Client Benefits
Concerning Frotcom's installation, connecting the GPS devices and sensors in the company's vehicles went smoothly. Through several analyzes and attempts, all issues were promptly solved by the Frotcom team, and now the fleet management system is working perfectly in the company's vehicles. After a successful implementation process, LSU benefited from high-quality training, which was essential for all team members to perceive the system better and work with it without concerns.
Since using Frotcom's fleet management software, the company noted that collection response times dropped and transportation is now more efficient. According to LSU, Driving behavior analysis, Fleet Alarms, and Automatic driver identification were crucial to access valuable information to manage their vehicles and drivers more efficiently.
Moreover, other Frotcom features like Fleet cost management and Fuel management helped the company achieve a 15% reduction in fuel costs and increased control over fuel deviations.
According to Vitor Calado, General Manager at LSU, "Frotcom allows us to instantly control fuel costs, with a strong focus on deviation control. Also, the system allows receiving alarms edited by us, which is vital to receive the information that matters for the most varied situations we choose."
The General Manager also stated that "Frotcom is a practical, friendly, very reliable system, and support is always on time. Most importantly, it enabled us to reduce our fuel costs by 15%."
With Frotcom features and the service and support offered, LSU – Limpeza e Saneamento Urbano thus achieved its fleet management goals, making its fleet's operations more efficient and less expensive.
If your company is also facing these or similar challenges, contact a member of our team, and start making the most of your fleet with our fleet management software.