Resilient fleet cost containment strategies - Convention
Frotcom Botswana hosts a Stakeholder Convention under the theme "Resilient fleet cost containment strategies" from the 26th to 28th October 2022 in Gaborone.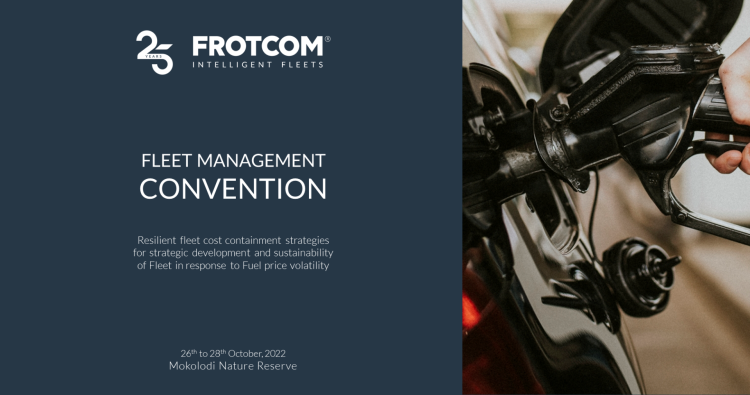 Fuel costs are a critical component of overall logistics costs. In recent months, we have seen a significant and steady rise in fuel costs, increasing operational costs for all service providers.
Frotcom Botswana proposes a professional convention to dialogue on how to maintain profitability amid the fuel price movements, which have an inevitable impact on the whole value chain, by hosting a Stakeholder Convention at Mokolodi Nature Game Reserve, in Gaborone from the 26th to 28th of October 2022.
According to Lindiwe Masuku, CEO of Frotcom Botswana, this Convention will provide a forum for outage management/fleet professionals to exchange experiences and best practices related to the Fleet's strategic development and sustainability, in response to fuel price volatility.
Experienced professionals in Fleet, Transportation, Logistics, Business Strategy, Finance, and Accounting will be engaged as moderators and facilitators of the Convention.
The fleet stakeholders will have the chance to deepen their knowledge in this matter, by being able to:
 
Enumerate the major elements of a cost analysis
Describe how to carry out these elements
Cover some basic concepts of conducting a cost analysis of a logistics system.
Work with delegates to understand the process and steps involved in assessing costs in a logistics system.
Introduce some of the basic principles of cost analysis
Convention outline
 
Vehicle Management, and Fleet management systems
Vehicle maintenance and up-keep, and Vehicle usage
Cost Analysis in Logistics Management
Defining the Major Factors that Drive Fixed and Variable Costs
Calculate Relevant Fixed and Variable Costs, and Assess Unit Costs and Total Costs
Discovering the most competitive delivery method
Using intelligent fleet management systems to proficiently handle related processes
Routing and scheduling of Fleet
Determining transportation, production, scheduling, and research processes
Determining the rate of production material, supply consumption, and flow of finished goods.
Registration can be done by contacting Frotcom Botswana.