How to increase fleet and driver safety with Frotcom?
If you're a regular reader of Frotcom's Roadmap newsletter, you probably noticed we've been providing an updated overview of the Benefits of Frotcom: Comply with legislation, Control your fleet operational costs and Increase productivity.
In this issue we'll be focusing, not only on the safety of your drivers, but also of your fleet and cargoes.
Increase safety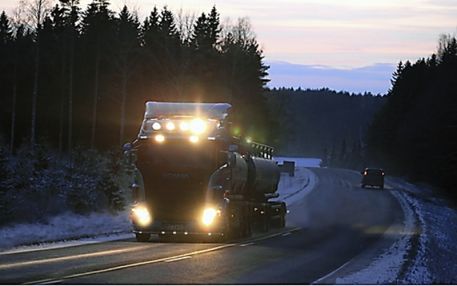 Before one of your drivers has an accident, or vehicles, fuel or cargo are stolen, here's what you need to have in mind in a way to keep your fleet safe:
- Drivers and passengers safety: Road accidents can have a very negative impact on a company's operations, profitability and even image; and worse still, they can lead to possible injuries or deaths. As companies are looking for ways to increase safety in their fleets' operations, there are recommended practices that can minimize these risks. A safety-oriented company culture and adequate training and qualification of the drivers are on the top of the list. The other recommended practices are related with the use of appropriate driving behavior monitoring/analysis, driving times monitoring and speeding alerts that can immensely help increase the safety of your drivers and passengers. Did you know that 90% of vehicle accidents are caused by poor driving behavior? You can also prevent this from happening with your drivers, by monitoring driving behavior, detecting aggressive driving, avoiding excessive driving times and resulting fatigue through Frotcom. With Frotcom you will be able to reduce the probability of accidents in your fleet
- Vehicles and assets safety: Vehicles can be subject to many risks, vehicle theft and mechanical damage, for instance. As assets (semitrailers or containers), that can also be easily lost. In case one of your vehicles or assets (semitrailer, container, swap body or other asset) is stolen, you want to be able to maximize the chances of quickly recovering them. You also want to minimize the impact of reckless driving on your vehicles; not only the effect of likely accidents, but also wear and tear due to harsh acceleration, braking, excessive RPMs and so on. Frotcom has the right tools to identify situations like these, by monitoring and managing your fleet 24/7.
- Cargo and materials safety: In order to keep your cargo and goods safe, you may need to monitor both access to the cargo, and the conditions under which the cargo is being transported. For instance, food/beverages, pharmaceutical products and livestock, must be transported, in a manner that mitigates the risk of exposure to temperatures outside labelled storage conditions, which would potentially result in very high losses or damage claims from your clients. You need to monitor temperature, from the moment the vehicle departs until the cargo is delivered. Moreover, in the event a vehicle is stolen, you want to be able to locate it and recover it as soon as possible, in order to avoid losing the cargo.
Post tags:
Frotcom
Intelligent fleets
Vehicle tracking
comply with legislation
Control operational costs
Increase productivity
Increase safety