How can driving behavior help you reduce fuel costs and greenhouse gas emissions?
Studies have shown that there is a direct correlation between preventable accidents, fuel efficiency and the reduction of greenhouse gas (GHG) in terms of driving behavior.
Greater education around safe driving is a good way not only to prevent any accidents that drivers may suffer, but also help to reduce fuel consumption and CO2 emissions.
A safe driving program will allow companies to reduce driver exposure to accidents and one of the best practices is to combine eco-driving and safe driving techniques into one program.
Frotcom's Driving behavior analysis module was designed to monitor how your vehicles are being driven and help drivers to improve their driving behavior. By avoiding aggressive driving such as harsh accelerations and braking, idling and speeding, drivers will be safer and your fleet fuel consumption will be reduced.
Drivers may even compete in a friendly way to receive a score based on their driving behavior, which allows for training and rewards. It also coaches them towards a more efficient driving performance.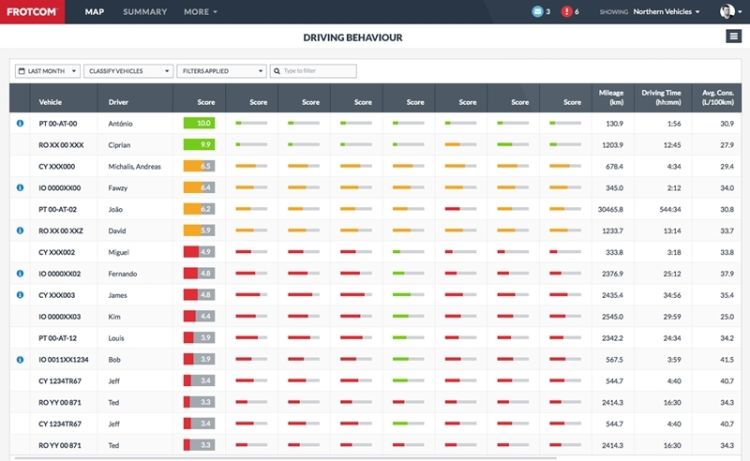 The way a vehicle is driven determines not only how safe the driver is on the road, but also how he/she can improve (or harm) fuel economy and decrease (or increase) emissions.
Did you know that the fuel efficiency of a vehicle can be affected by 5% to 30% by driver behavior, regardless of vehicle size or engine displacement? Did you also know that the highest amount of GHG emissions occurs during aggressive driving? Less than a minute of high-powered driving produces the same GHG volume as half an hour of normal driving. Acceleration, speeding and braking can lower fuel economy by 33% on highways and 5% in urban areas.
Frotcom's Route planning and monitoring is another very useful tool for fleet managers. By planning routes properly you can optimize the route execution and see a reduction in the total mileage and the corresponding decrease in your fleet's fuel costs and it can also reduce emissions.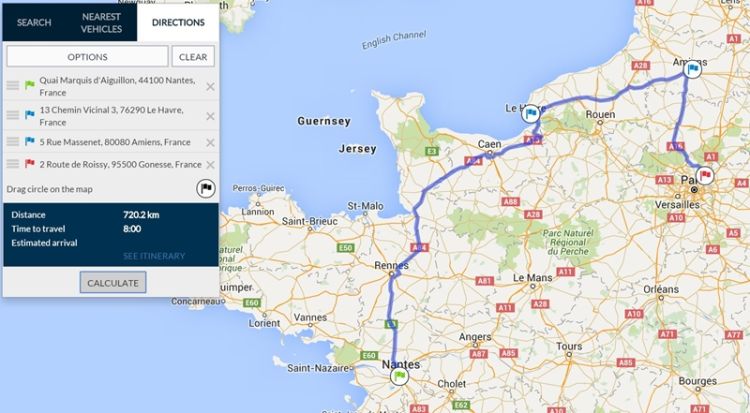 It is important to remember that the largest volume of emissions occurs when starting a cold engine. Ecologically safe driving encourages the combination of several short trips in one. As a catalytic converter must be heated to a certain temperature to operate, fewer emissions are produced during longer trips because the engine is heated.
Learn more about Frotcom's features and how they contribute to reducing fuel costs and CO2 emissions.
Source:
Automotive Fleet
 
Post tags:
Driving behavior
CO2 emissions
Greenhouse gas
Frotcom
Fleet management system
GPS vehicle tracking
Driving behavior analysis
Route planning and monitoring
Efficient Driving