4 Top Trends in Fleet Management
Discover 4 fleet management trends that will help you reduce costs, mitigate risk, and improve productivity.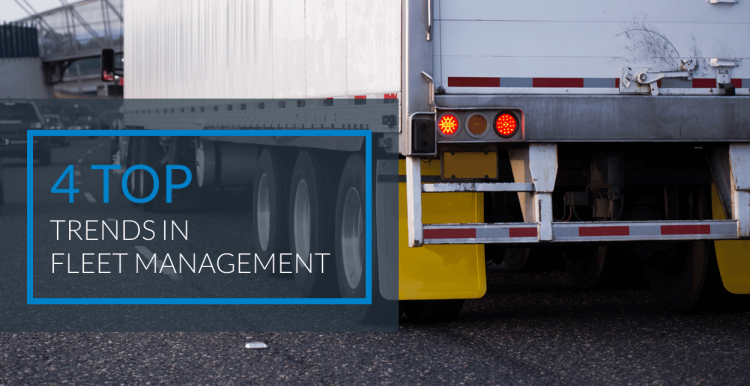 According to a survey from TD Bank in 2019, more than half of fleet managers (52%) worry about driver shortages, economic conditions, and mostly about keeping up with technology in their fleet management activities.
Fleet managers all over the world recognize the increasing importance of integrating technology in their daily activities to boost their fleets and get better results. If you manage or own a fleet, these trends can help you be more efficient and take your business to the next level.
 
4 Top Trends in Fleet Management
1. Data collection and management
Fleet managers are looking for technology that collects the right data to help them better manage their fleet. Today's telematics collect an impressive amount of data about vehicles, drivers, and daily operations like fuel usage, average mileage per vehicle, routing, driving behavior, trip data including starts, stops, vehicle speeds, idle times, and others.
Based on this, one big trend that is gaining traction is the creation of data management roles, with the responsibility to analyze the data objectively and translate it into process improvements for a higher-functioning and more efficient fleet.
 
2. Driver and vehicle safety
With GPS vehicle tracking and driver pairing, fleet managers can better monitor their vehicles and drivers and hold them accountable for following procedures and safety policies.
Another significant trend is the increasing development of technology that focuses on security and driver behavior like safety alerts, face tracking for driver fatigue, enhanced driver scorecards, and seat belt compliance, for example.
Following this tendency, Frotcom has already developed safety features like Driving Behavior Analysis and Fatigue and Distracted Alarms to help fleet managers keep their drivers safe and their vehicles in top condition.
3. Automation and Machine Learning
There are still a few years ahead until self-driving vehicles take over the road, but manufacturers and telematics providers are investing heavily in advanced and automated safety technology and machine learning.
In fleet management, this could represent a significant advance, because of the tons of information on driving behavior that AI-enabled vehicles can gather and process. In fact, 61% of fleet managers enquired in the TD Bank survey believe that autonomous trucks will become mainstream in the next decade.
4. Investing in Workforce
Drivers need to work with the technology used by your fleet, not against it. Therefore, fleet managers are looking for ways to invest in their employees' training in technology and its important role in making drivers jobs more efficient and productive.
Fortunately, many of those entering the workforces, have adapted to constant connectivity with their smartphones and home assistants, so the use of technology in the vehicle is simply seen as a standard operating procedure, and they recognize the benefits, such as increased safety and exoneration in the case of an accident.
To attract new talents and retain drivers, the trend for fleet managers is also to use bonus-based strategies, provide professional development, and create employee-based committees to turn drivers into safety or technology advocates.
For more information on how Frotcom can help, contact a member of our team.
Post tags:
Fleet management
TD Bank
Driver safety
Vehicle safety
Driving behavior analysis
Fatigue and distracted alarms
Automation and Machine Learning
Fleet managers
Fleet owners