How can Frotcom help fleets reduce fuel costs?
Whether you manage a large or small vehicle fleet, we can help you save fuel, reduce operational expenditure costs, and grow your business.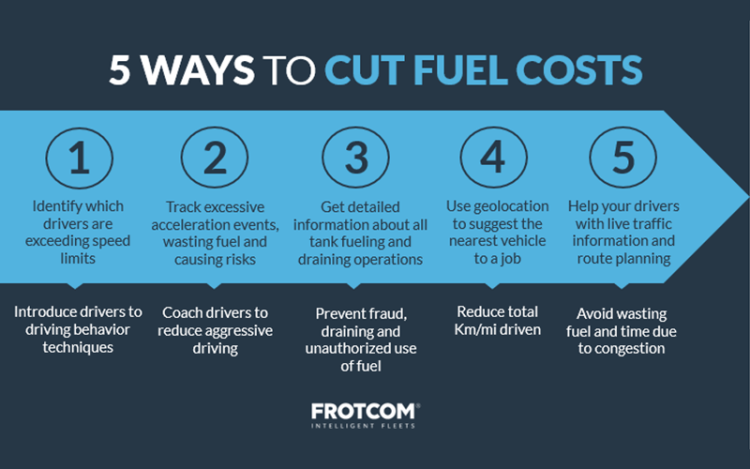 For most vehicles on the market today, the impact of eco-driving vs. aggressive driving on fuel consumption can exceed 30%.
 
To save on fuel costs, you can implement some measures right away, such as providing training sessions about driving behavior to your drivers and the negative impact of excessive idling times in fuel consumption on your fleet. Some studies have shown that average fuel consumption in a fleet of trucks or vans can reduce your fleet costs on average by as much as 7%.
 
Planning your routes more efficiently and encouraging your teams to check their vehicles regularly, it's also another great measure that will make the difference in your fuel fleet costs.
Frotcom's Fuel Management provides a wealth of benefits that can offer essential insights if you wish to reduce fuel costs and save money.
Moreover, with Frotcom, you can continuously monitor the costs incurred by your fleet, analyze the fluctuations in fuel consumption, and get better results.
How can we help your fleet cut fuel costs?
 
Identify which drivers exceed speed limits and introduce them to driving behavior techniques;
Track excessive acceleration, braking, cornering and idling events that waste fuel and cause risks;
Keep fuel under control 24/07, discourage fuel theft and unauthorized usage of your vehicles;
Use geolocation to suggest the nearest vehicle to a job and reduce total km/mi driven;
Help your drivers with live traffic information and route planning.
For more information on Frotcom's Fuel Management, contact a member of our team.
Post tags:
Frotcom
Fuel costs
Fuel management
Cut fuel costs
Nearest vehicles
Driving behavior
Intelligent fleets
Fleet management software
GPS vehicle tracking
Cut fleet costs