Frotcom displays its latest innovations at the 6th Salão Nacional do Transporte
Frotcom was again present at this major Portuguese event dedicated to the road transport sector and presented its latest innovations to hundreds of visitors.
The 6th edition of the National Transport Sector Show took place from June 30 to July 2 in Portugal, and Frotcom was again present!
The exhibition was held by ANTRAM* at Expocentro in the city of Pombal. It aimed to promote the latest news of companies from the after-sales sector, suppliers of truck fleets, and all those who deal with the maintenance and repair of trucks in Portugal. Also, the 6th edition of this event allowed truck drivers, entrepreneurs, suppliers, and clients from across the country to interact, share experiences, and do business.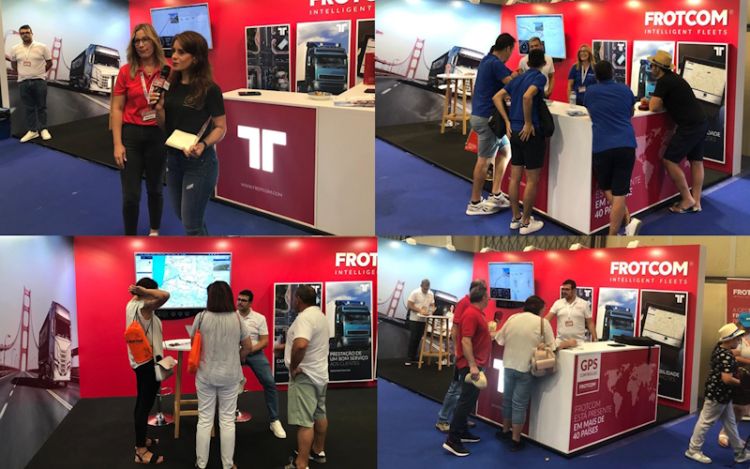 Frotcom's booth received hundreds of visitors during the event, who had the opportunity to see live presentations of Frotcom's latest innovations, focusing on Driver coaching - Frotcom's exclusive module that will revolutionize how companies train their drivers on the job. In addition, the team presented Frotcom's Electronic Logbook solution, the Remote tachograph download system, and the new integration with Continental's ContipressureCheck.
Rita Santos, Account Manager at Frotcom Lusitana, shared some thoughts about the experience:
"Our participation at the 6th Salão Nacional do Transporte was truly remarkable. We had the privilege to exhibit our advanced GPS Vehicle Tracking and Fleet Management software, showcasing our latest innovations. The event provided an ideal platform for Frotcom to engage with truck drivers, businessmen, suppliers, and customers, demonstrating our commitment to cutting-edge solutions in the freight transport sector. We are thrilled with the connections made and the enthusiasm shown by attendees."
* ANTRAM (Associação Nacional de Transportadores Públicos Rodoviários de Mercadorias), it's a Portuguese association that represents professional Portuguese freight transport companies..
If you couldn't join us at this event and want to know more about Frotcom, contact a member of our team.
Post tags:
Frotcom
Frotcom Lusitana
National Transport Industry Trade Show
ANTRAM
Intelligent fleets
GPS vehicle tracking
Fleet management system
Driver coaching
Electronic Logbook
Remote tachograph download
ContiPressureCheck™
Trade shows