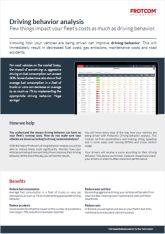 You understand the impact driving behavior can have on your fleet's running costs. How do you make sure your vehicles are driven according to driving recommendations?
Knowing how your vehicles are being driven can improve driving behavior. This will immediately result in decreased fuel costs, gas emissions, maintenance costs and road accidents. 
With the help of Frotcom's driving behavior module, you will be able to reduce these costs significantly. Monitor how your vehicles are being driven and help drivers improve their driving behavior. At the end of the day, you will see the results.
You will know every step of the way how your vehicles are being driven with Frotcom's Driving behavior analysis. This module controls accelerations and braking, idling, speeding and in some cases over revving (RPMs) and cruise control usage.
Your drivers will receive a score according to their driving behavior. This allows you to train, measure, reward and coach your drivers in order to attain maximum performance.