Amigos Transport is saving 7% in fuel costs with Frotcom
Fleet cost management | Route planning and monitoring
The use of Frotcom has provided Amigos Transport a better understanding of their fleet costs and a clear view of fleet operations.
Amigos Transport d.o.o. is a Slovenian company based in Ljubljana, and has been working in the transportation and distribution of goods since 2004.
The fleet comprises 18 trucks, all of them in accordance with the emissions legislation EURO 5, EEV and Euro 6, and traceable by Frotcom's vehicle tracking and fleet intelligence solution.
Client Challenges
Amigos Transport needed a solution capable of managing its fleet operations, controlling the costs involved, opening the way to accommodate more tasks. The company began its search for a GPS fleet tracking solution, that would be able to gather all of these functionalities.
Frotcom Slovenia's Approach
After being referred by a Frotcom Slovenia customer, a meeting was scheduled with Frotcom Slovenia at Amigos Transport's office.  The company underwent a free trial using one of its trucks for 2 weeks,  and soon concluded that Frotcom was the right solution to monitor and manage the fleet, fulfilling all their requirements.
Benefits achieved
One of the biggest benefits for Amigos Transport, after implementing the Frotcom solution,  was the ability to track the costs of the entire fleet. Using the Cost Management module the company registers and controls the costs of the fleet (fuel, maintenance, employees' wages, etc.) and also calculate the real costs of each vehicle, as well as real cost/km and other ratios.
By connecting Frotcom to the CANBus circuit in the vehicles, Amigos Transport can extract relevant truck data to increase vehicle usage efficiency, save fuel, reduce CO2 emissions, and also lower maintenance costs.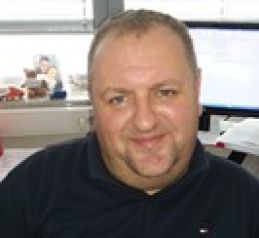 Mr. Marko Prijatelj, CEO at Amigos Transport, d.o.o.
Mr. Marko Prijatelj, CEO at Amigos Transport, d.o.o. said, "Frotcom gives me the big picture of my fleet. It has all the "bells and whistles" we were looking for. Now I just need to enter the costs in Frotcom and calculate them for a certain period. I have to tell you, this made my job easier. We are also glad for the constant free updates and new Frotcom functionalities".
He concluded saying, "More tasks are being completed with fewer kilometers, thanks to Route Optimization. Driving behavior also has changed, and the fleet is now more efficient. Due to the use of Frotcom, we have an average monthly saving of 7% in fuel costs. Tracking the vehicles and the costs related to them provided even more benefits to us".