Pavi Trans reduces overall costs by 15% and improves delivery times using Frotcom
Fleet alarms | Driving behavior analysis | Fuel management | Integrated navigation system | Route planning and monitoring
Frotcom features helped the company reduce fuel and communication costs and have real-time insight into its entire fleet.
Pavi Trans was established in 2006 and began its operations with only one team member and one vehicle to transport textiles, frozen and fresh goods from North Macedonia to Europe and vice versa.
With continued work, persistence, confidence, and the desire to grow, Pavi Trans' fleet expanded and counts today with 22 employees and 20 vehicles equipped with Frotcom.
Currently, Pavi Trans has several types of vehicles to transport products such as textiles (hanging garments), furniture, and palletized and non-palletized goods. All of them are equipped with a GPS tracking system for 24-hour surveillance by customers. It also counts with a highly trained staff specialized in national and international transportation.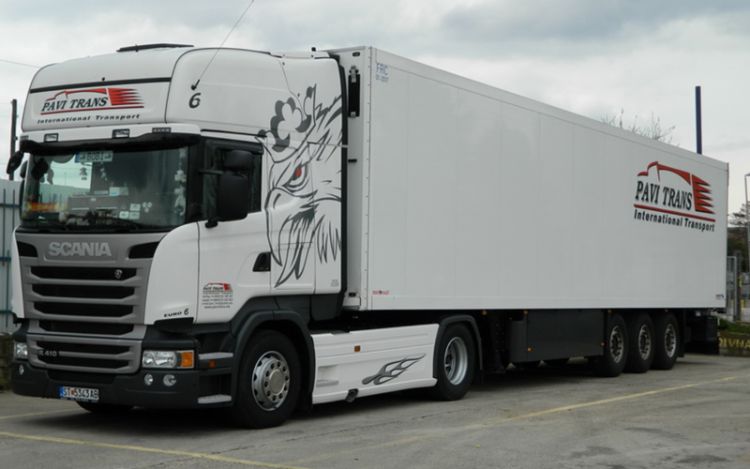 Client Goals and Challenges
Pavi Trans was looking for a fleet management solution to manage and control its fleet. Its key challenge was to achieve a greater level of efficiency and optimal utilization of resources.
Implementing Frotcom was then the chosen solution to reduce its fleet costs, improve productivity, enhance customer service, and increase safety. Frotcom replaced the previous fleet management system used, which was not providing the desired results.
Client Benefits
The main benefit of Pavi Trans when implementing Frotcom was to have real-time insight into its entire fleet's location, which allowed to organize better all transport services. The company noticed an overall cost reduction by more than 15% and an improvement in delivery times.
Frotcom's Route planning and monitoring feature helped Pavi Trans reduce downtime and improve delivery times, which lead to optimizing productivity, especially during the COVID-19 situation. Also, the Driving behavior analysis module helped reduce aggressive driving, causing drivers to adhere to proper driving behavior. The client noted less wear and tear of vehicles (depreciation reduced by 10% according to PaviTrans), which resulted in lower maintenance costs.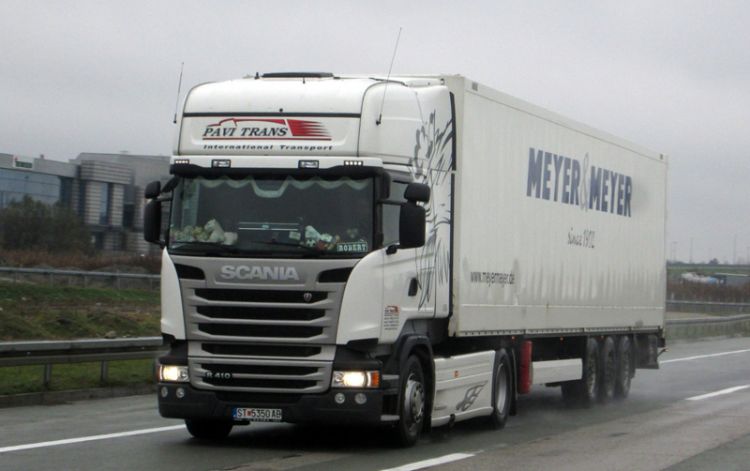 With Frotcom's Integrated Navigation, Pavi Trans' fleet management team reduced communication costs significantly since it allowed sending real-time destinations, routes, and messages to drivers through the navigation device. With the click of a button, this module made it easier to send pickup and delivery locations to drivers, with clear instructions, and Pavi Trans' customers are happy to follow their goods and receive them on time.
By reading CANBus data on vehicles, the company can now have prioritized and real-time information on fuel consumption and mileage. Moreover, with Frotcom's Fuel management, Pavi Trans achieved an almost immediate significant fuel consumption reduction. Fleet alarms are also beneficial to monitor the fleet, as the company can now quickly detect when something is not right.
Jovev Zoran, the owner of Pavi Trans, said: "Our experience with Frotcom has been very fruitful, and I can say, without hesitation, that we have met our goals. I can also say that Frotcom is indeed the best tool for GPS fleet tracking!"
He concluded, saying that "Our company is very grateful that the whole Frotcom system works according to our needs, and it contributed to saving money, nerves, and time, which means a lot nowadays."