Set up activity update notifications in Frotcom Workforce management Tasks
You can now set up notifications to receive alerts when new steps in the workflow are reached (e.g. Started, Moving to the destination, Arrived at destination, etc.), in the Tasks* being executed. These notifications can be sent to emails and mobile phones.
To configure these notifications, you must go to Administration > Account - Jobs and choose all the task types and corresponding steps that will trigger notifications to users via emails or texts to their mobile phones.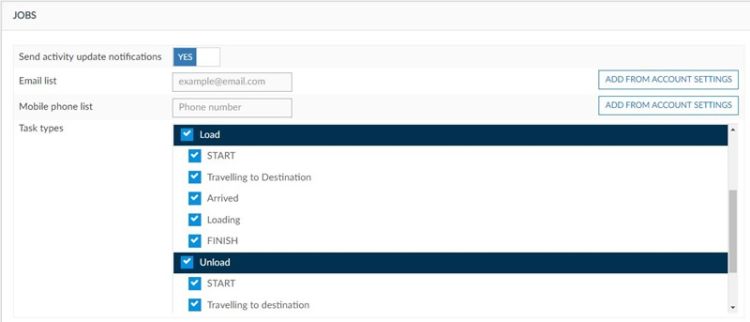 * Tasks are the way the office sends work orders to drivers, services or freight, depending on the company's activity. When a driver receives a new task, he/she can either accept it or reject it.
Post tags:
Tip of the month
Frotcom notifications
Frotcom tasks
Mobile workforce management
Fleet management system
GPS vehicle tracking
Intelligent fleets