US road transport will change radically with autonomous trucks
A new report by McKinsey & Company, a worldwide management-consulting firm, predicts that, in little more than a decade, fully autonomous trucks (AT) will operate on regular North American routes, bringing significant benefits to the road transport industry.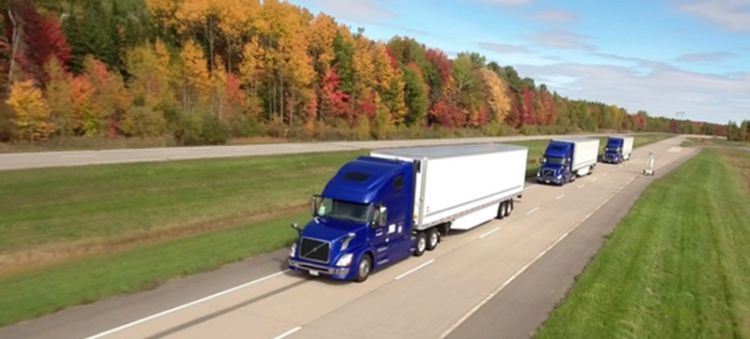 In the US, the road transport sector remains a "deeply traditional" industry with "few major or structural changes" in recent decades. However, it is an industry that moves about two-thirds of all products shipped in the United States and it's currently the most common occupation in more than half of all US states.
Nevertheless, the McKinsey & Company report says that autonomous trucks are about to change this vision. Take, as an example, the case of companies like Budweiser that have used fully autonomous trucks to make beer deliveries or business agreements already inked and signed between companies to jointly operate and profit from autonomous truck operations. Basic autonomous operating systems today range in price from $30,000 to $100,000, the report's authors note.
Initial autonomous truck operations are already in their embryonic stages and the report predicts that the overall adoption curve will take place in four major stages, which began in 2018 and are expected to run until 2027. Each wave will lower operators' total cost of ownership (TCO) - a little at first, then a lot.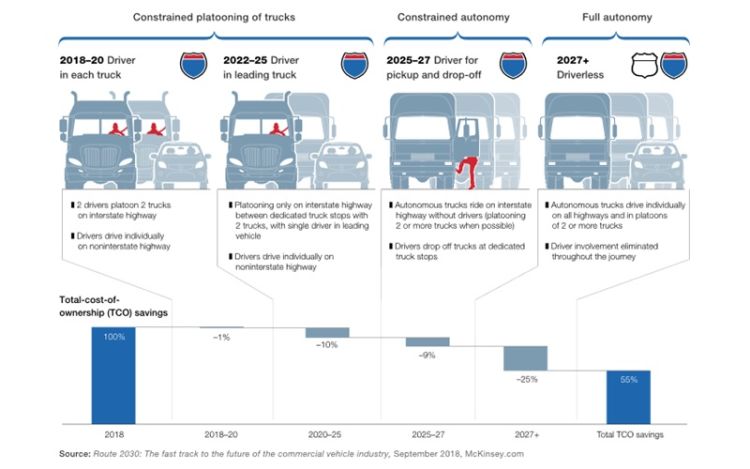 First stage (2018-2020)
Beginning in 2018, with two-truck platoons and drivers operating each vehicle with Level 3 automation. From now to 2020, ATs will take to the roads to test the advantage of aerodynamics, subsequent fuel savings and expect to cut total operating costs for each truck in a fleet by approximately 1%.
"Connected convoys will develop operational algorithms and vehicle communications networks will mature and expand, leading to the second wave of autonomous truck development in or around 2022", declares the report.
Second stage (2022-2025)
On interstate highways, driverless platooning will become operational, with a driver in the lead truck and unmanned trucks following close behind. When leaving the highway, drivers will once again assume control of each truck. According to the report, autonomous operations at this stage could deliver savings in fuel and labor, cutting TCO by an additional 10%. Savings will depend on the proportion of highways and surface streets in the route.
Third stage (2025-2027)
The report projects that within five to seven years, constrained autonomy (SAE* International calls this Level 4 autonomy) will be normal. Which means unmanned autonomous trucks operating on all segments of the Interstate highway system and geofenced areas (subject to weather and visibility conditions) plus developments in infrastructure such as the ability to communicate with traffic lights. In this phase of autonomous technology, development drivers will meet trucks at the interstate exits and other areas to drive them in more dynamic traffic conditions to their ultimate destinations. This "constrained autonomy" technology is projected to produce total savings of about 20%, the report says.
Fourth stage (2027+)
The McKinsey and Company report predicts that by 2027, fully ATs (SAE International describes this as Level 5 autonomy) will be on the road, working across their entire operational scale with no human interaction at all and fleets will see a stunning 45% reduction in total operating costs for an individual truck, compared to today.
However, even at this stage, it will be many years before the autonomous fleet completely displaces its non-autonomous forebears.
*Society of Automotive Engineers
Source: Trucking Info
Post tags:
US road transport
McKinsey & Company
Autonomous truck
SAE International
Levels of driving automation
Autonomous fleets
Cost-of-ownership (TCO) savings
Platooning