ASM ambulances deliver a better emergency response with Frotcom
ASM enlists Frotcom's fleet management system for effective delivery of its vehicles to scenes of an emergency.

 Asistencia Sanitaria Malagueña (ASM) is an Emergency Rescue Service with more than 230 vehicles dedicated to providing effective healthcare assistance in the Malaga region (Spain). Each vehicle is equipped with cutting-edge medical technology to deliver high-quality care in crisis situations.
ASM focus on achieving healthcare excellence, a challenge it addresses by complying with standards on quality (ISO 9001), team safety health (ISO 18001) and environmental sustainability (ISO 14001).
As an emergency healthcare transport provider, ASM must be able to distribute its vehicles effectively to ensure no time is wasted reaching those in need of assistance. Therefore, ASM sought a superior fleet management and GPS vehicle tracking system to enable the real-time location of its vehicles and to identify the routes being taken.
After an initial assessment period, Frotcom was the clear choice for ASM's needs thanks to its experience in fleet management and GPS vehicle tracking.
Two hundred of ASM's emergency vehicles are now equipped with Frotcom's detailed fleet management capabilities and GPS vehicle tracking system, which provides extensive coverage of vehicles' real-time locations and enables more efficient route mapping.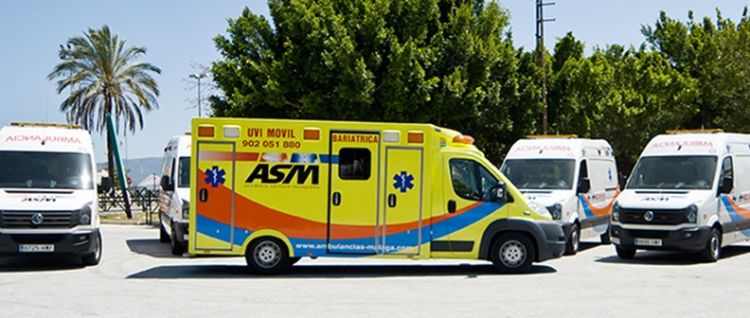 In addition to the GPS vehicle tracking, ASM uses Frotcom's Nearest vehicle feature to ensure that no minute is wasted and that the vehicle closest to an incident is allocated for rapid response times. This makes Frotcom's proposition a unique match for ASM's fleet performance management.
Frotcom Fleet alarms, activated for zones and places add great value to ASM, helping to monitor the vehicles and to detect when something is not quite right.
ASM also benefit from Frotcom's high-quality customer service and support. During implementation, the Frotcom team delivered expert training sessions in person for traffic agents. Moreover, a member of the Frotcom support team is always on hand for any of ASM's technical queries.
Today, with the help of Frotcom, ASM can determine optimum routes for drivers resulting in a 15-20% fuel saving.
Most importantly, ASM's decision to use Frotcom's tracking system gives the company a technological edge over other Emergency Rescue Service companies.
Juan Antonio Tellez Lopez, Managing Director at Asistencia Sanitaria Malagueña said, "We have seen great improvements in our response times, fleet reliability and cost-savings. The quality of the tracking coverage means incidents are far easier to locate and the two-second positioning allows us to better visualize the routes on the map and deploy the nearest vehicles. Having zone-based alarms is also invaluable and ensures teams have greater awareness and control over vehicle locations."
Post tags:
Frotcom
Asistencia Sanitaria Malagueña
Emergency services
Fleet management software
GPS vehicle tracking
Intelligent fleets
Better time response
Nearest vehicles
Route planning and monitoring
Cost-savings