Tire pollution: lowering car emissions with new EU tire labels
More fuel-efficient tires mean lower emissions. Proposed new EU (European Union) tire labels will help you choose based on fuel efficiency, wet grip, and noise level.
The EU has committed to
cut its greenhouse gas emissions by at least 40%
below 1990 levels by 2030 under the Paris Agreement.
Road transport
is responsible for about 22% of the EU's greenhouse gas emissions, and transport is the only sector where emissions remain higher than in 1990. In order to reach
climate neutrality
by 2050, the EU wants to cut emissions from transport 60% by 2050, compared with the 1990 level.
Tires account for between 20% and 30% of a vehicle's fuel consumption, which means that choosing more fuel-efficient tires can help to reduce transport emissions. In order to help consumers make informed decisions,
the EU is introducing a new labeling scheme for tires
.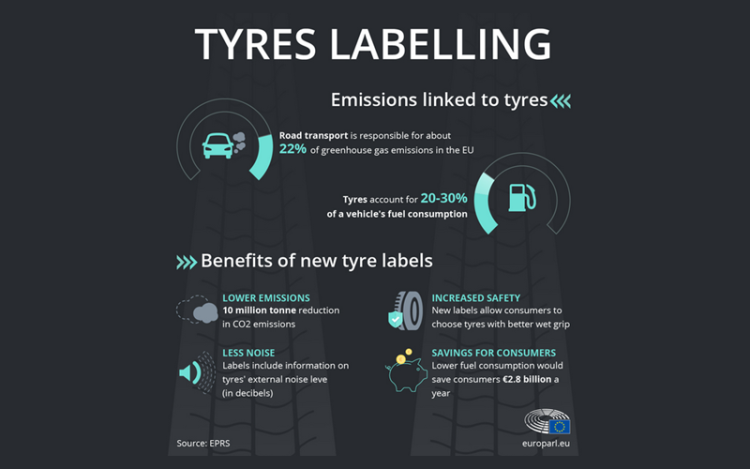 New labels to help consumers
The labels would include information on fuel efficiency and wet grip, on a scale from A to G (similar to the
energy labeling
used for household appliances), as well as information about their external noise level, expressed in decibels.
Information on snow and ice grip can be added in the future, as well as information on mileage and abrasion (responsible for
microplastic pollution
) when a testing method becomes available.
Labels must be clearly visible to consumers, be on display in all situations where tires are sold, including online, and should provide a QR code for an easy scan.  
Benefits of new EU labeling of tires
New tire labels will allow EU consumers to choose more fuel-efficient tires, which can lead to great savings for them in terms of spending as well as lower emissions. Road safety is improved through better-wet grip while information on noise levels help lower noise pollution caused by cars.  
Next steps
The European Parliament approved the new labeling scheme on 13 May. The new rules will enter into force on 1 May 2021.  
Source:
European Parliament News
Post tags:
Tire pollution
Fuel efficiency
Wet grip
Noise level
European Parliament
Tires labeling
Road transport