Cargo Theft: Mitigate Risks with a Fleet Management System
Cargo theft affects fleets worldwide, and fleet management systems have become increasingly essential to ensure drivers and cargo safety.
With the congestion verified in some ports, and storage restrictions due to the pandemic crisis, it is expected that the number of thefts in cargo transportation around the world may increase. Therefore, it is more important than ever for fleet managers to mitigate risks and ensure their cargo and drivers' safety.
High-risk situations like human or drug traffic and corruption in some points of the transport chain can also lead to cargo damage or even its total loss, making cargo transport security one of the main priorities of companies.
 
Risks associated with cargo theft
According to a BSI (British Standards Institution) and TT Club (International Transport and Logistics Insurance) cargo theft report published this year, some of the risks related to cargo theft are:
 
Drivers' physical harm;
Damage to the operators' reputation;
Social alarming;
Equipment breakdown;
Increase in insurance costs.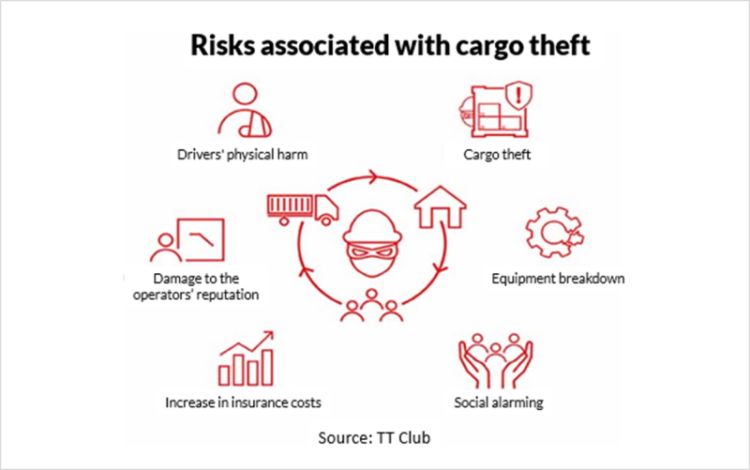 The report also lists the countries with more cargo theft incidents, types of cargo theft used and type of items stolen.
The countries with the most incidents are Brazil, India, Mexico, Germany, Russia, and the United Kingdom. The report also noted that in 2020 around 31% of cargos were accessed using violence (hijacking) or threats to the carrier.
Factory robbery accounted for around 25% of recorded incidents, and theft of transport vehicles reached 12%. In turn, 8% to 9% of the incidents verified were of containers or the contents of galleys and transport vehicles. Other types of attacks represented about 15% of all incidents.
As for the type of items stolen, there is some variation along the transport chains, depending on whether fleets operate in Asia, North or South America, Europe, or Africa. The types of exported/imported articles are different in each region, leading to a different theft pattern. The location where they are stolen, at the various nodes of the transport chain, also depends on the geographic area.
According to the Cargo Theft report, the top stolen cargo in 2020 was:
 
31% food and beverage
30% of other major commodities
10% consumer products
9% electronics
8% alcohol and tobacco
7% fuel
5% construction materials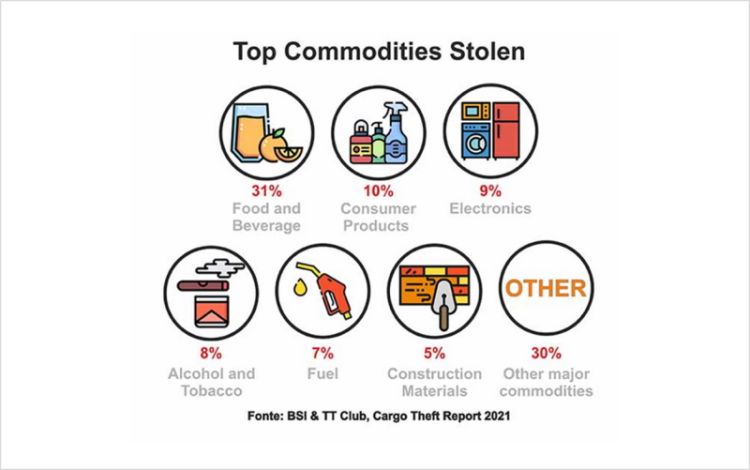 The BSI and TT Club's report also identified a decrease in goods stolen in the truck variant along the transport chain last year, probably due to the pandemic.
 
Reduce cargo theft risks with a fleet management system
Fleet management systems play a significant role in keeping drivers and cargo safe during transport due to the wide range of security features they provide.
Frotcom offers security features specially designed to protect your fleet against theft, such as the Panic button alert, making it possible for drivers to trigger an alarm in an emergency and send immediate help.  Fleet alarms also allow you to be notified (or someone else) when certain situations arise involving your fleet vehicles and cargo.
Other features like Remote vehicle immobilization and the Vehicle access control system can also help you ensure cargo and drivers safety. The first allows the fleet managers to block the vehicle in case of theft through a remote control switch. The second provides secure access to your vehicle's cargo through sensors attached to each door of your semitrailer or van, which detects every time a door is opened or closed.
Regarding fuel theft, Frotcom can also permanently monitor the fluctuation of the fuel level in your vehicles' and easily detect fuel losses (caused by theft or other situations) with Fuel management.
If you would like to find more about Frotcom security features, contact a member of our team.
Source:
TT Club
Post tags:
Frotcom
Fleet management system
Panic Button Alert
Fleet alarms
Fuel management
Vehicle access control system
Remote vehicle immobilization
Cargo theft
Fuel theft
Vehicle theft security risks