Daynpe Tranworld ensures full coverage with Frotcom
Fleet cost management | Driving behavior analysis | Integrated navigation system
Spanish freight carrier Daynpe Tranworld relies completely on Frotcom to achieve maximum profitability and keep growing in a competitive market.
With over 25 years of continued growth under its belt – despite a heavily fluctuating market – Daynpe Tranworld focuses on national and international shipping, mainly fast delivery cargoes, but also automotive delivery. Daynpe's regular routes cross the Iberian Peninsula, southern France and Italy.
Client Goals and Challenges
An early adopter of GPS-tracking and fleet management, Daynpe was more aware than most of the competitive advantages that intelligent management solutions are key to managing its fleet, to be consistently more efficient and provide a high-quality service.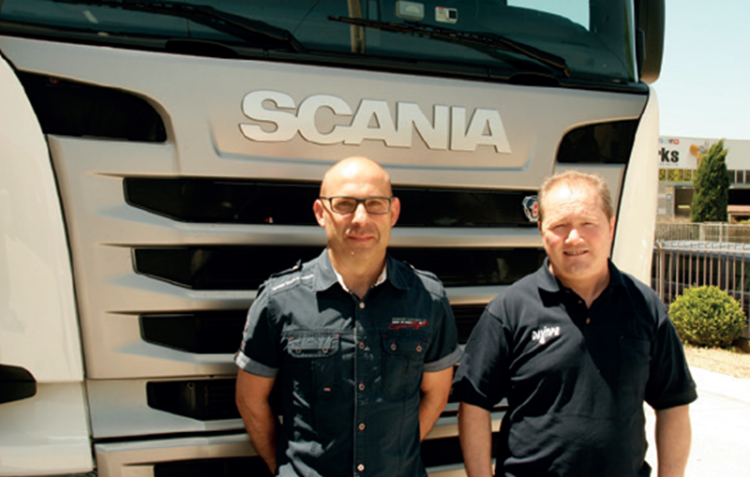 Previously Daynpe had tried several alternative fleet management solutions and found them disappointing, unintegrated, or fragmented. The company wanted to push ahead, with a reliable solution that could integrate with their own management system, one "that was 100% reliable as, comparatively, previous solutions we have worked with, didn't allow GPS devices with total geographical coverage and had several pitfalls", explains Mr. António González, Staff Director and Transit Manager at Daynpe Tranworld.
Daynpe was looking for a solution that could provide valuable data about job dispatching, driving times, fuel consumption, driving behavior, related costs, etc. – a tough bill to fill, especially if the system had to cover all the bases and remain reliable and robust. Little over a year ago, however, Daynpe adopted Frotcom's full suite of solutions and it has proven a match made in heaven.
Client Benefits
Daynpe was able to integrate Frotcom with CANBus in the vehicles, providing real-time data on driving behavior, driving time, fuel usage, and access useful reports to significantly improve driving patterns, for instance.
Another great advantage to Daynpe is Frotcom's integration with Garmin dashboard navigators, which enables real-time delivery tracking, driver and task management, document exchange, and direct communication between the office and the drivers.
Another great Frotcom tool is the possibility to associate Frotcom's Cost management module with Frotcom's Driving behavior module, which lets the company know not only how vehicles are being driven, but also the related fixed and variable costs to each vehicle. "At the end of each month we know the driving behavior of each driver, and consequently, the related operational profitability", said Mr. Juan Ortiz, Director of Operations and Transit for Daynpe Tranworld. He adds, "With Frotcom, the reality is that in less than 1 year we improved the company's profitability, based on improvements on driving behavior and increased driving efficiency".
The use of Frotcom helped to maximize profitability and cut overhead, to leverage continued growth and remain competitive in a demanding market.
Mr. Juan Ortiz concluded that "[Frotcom] Helps us improve not only our fleet management, but also company operations overall. And if you look at it as a whole, the performance improvement we've seen with this toolset is very high, even though, at the moment, we've only tapped about 30% of its possible applications".