Drivers' bad posture can cost your business a lot of money
New survey reveals that drivers' back pain is costing billions in time off work.
A survey undertaken by Volkswagen Commercial Vehicles has found that back pain is costing van drivers in the UK a staggering £21 Billion per year. 70% of those surveyed have admitted that they needed to take time off work averaging anything up to three weeks. Smaller businesses find the loss of manpower particularly challenging to deal with; can you imagine if just one in every ten people were absent at any one time? The cost to your business would be huge.
With some drivers spending at least seven hours in a commercial vehicle, Volkswagen is concerned that poor seating posture could be contributing to the problem, with two-thirds of drivers sitting incorrectly, according to a recent sample of drivers by the Cordwallis Group (a Volkswagen van center).
What can drivers do to help with their posture and protect their backs while driving?
According to the British Chiropractic Association and Volkswagen, there are seven top tips that all drivers should follow, including:
 
Adjusting your seat height making sure that your thighs are parallel to the floor with your hips higher than your knees.
Being able to push the pedals to the floor with a slight bend in your leg.
Bringing your seat up straight and reclining it until comfortable.
Adjusting your lumbar support so you can feel it in the hollow of your back without causing your spine to arch.
Adjusting the height and angle of the head restraint.
Adjusting your steering wheel to be in line with the fold in your wrist
Lift the rear-view mirror five degrees higher, so it keeps you upright throughout the drive.
Other ways to alleviate symptoms of back pain include: taking a break every two or three hours and doing some stretches or going for a short walk, using a cushion to act a shock absorber, strengthening your back through regular exercise and keeping your pockets empty so as not to cause misalignment.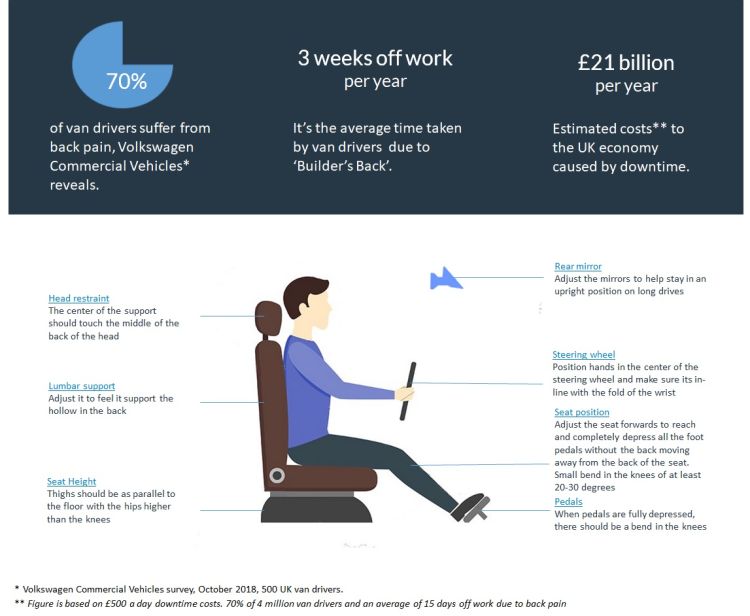 Post tags:
Driving posture
Van drivers
Seat position
UK economy