Major automakers move towards hydrogen truck production
Some of the biggest vehicle manufacturers are investing in heavy-duty fuel cell trucks to accelerate the pace of emission reductions.
To develop, build, and sell hydrogen fuel cell systems for heavy-duty trucks, Volvo Group and Daimler Trucks created a joint venture. With this partnership and other major manufacturers such as Toyota and Hyundai recently moving towards this greener path, a significant change is expected in the trucking sector. Although it will probably happen in the mid-term, hydrogen will become the go-to fuel for long-distance freight.
Earlier in 2020, Hyundai started using fuel cell trucks to haul goods for retailers in Switzerland and plans to grow the fleet to over 1,600 trucks and start offering fuel cell trucks in the US.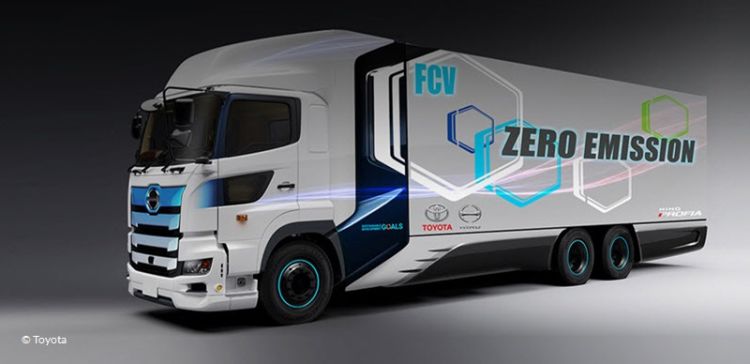 Toyota is also entering the market. After several years of testing fuel cell trucks in Southern California, the company is working side by side with its subsidiary - Hino USA - to develop a fuel cell version of the XL Series truck. This version will rely on fuel cell technology to deliver exceptional capability without harmful emissions.
It is fair to say that these companies are paving the way for the European Union to reach its goal to achieve climate neutrality and reduce pollution by 60% in 2050. They are reacting to what's going on in Europe, where countries are imposing high taxes on carbon-producing fuels and plan to implement strict regulations regarding diesel fuel.
These automakers are seeing multiple factors to make hydrogen an attractive fuel for trucking:
 
Hydrogen takes advantage of the major manufacturers work developing the electric trucks and drive systems since electric power trains can move thanks to the massive battery pack or a fuel cell stack;
It is expected that electric power train technology will grow rapidly over the next five years, as it brings a lot of benefits for companies, manufacturers, the environment, and especially to cities and countries (that are starting to levy high taxes on carbon-producing fuels and increasing strong regulation on diesel fuel, including bans);
The fact that fuel cells free electric Class 8 trucks from having to transport huge, heavy batteries, leaves payload space for freight and reinforces the revenue equation;
Hydrogen fuels reach about the same speed as diesel, and fuel cell trucks, therefore, have a massive advantage over battery-electric vehicles since they do not have to stop for charging;
Like electric vehicles, fuel cell trucks have lower maintenance expenses and higher reliability than diesel trucks;
Emission control systems and diesel internal combustion engines are expensive to repair and break down often.
It is challenging to visualize diesel trucks in the long term since large companies are moving into fuel cell technology, and environmental regulators are beginning to see their efforts pay off in terms of an emission-free environment.
Post tags:
Automakers
Car manufacturers
Green hydrogen
Diesel
Climate action
Climate neutrality
Green mobility
Truck emissions
Greenhouse gas
Reduce pollutant emissions
Reduce harmful emissions
Fuel costs
Fleet management
OEM