Frotcom exhibits its latest innovations in Greece's Premier Transport Events
September and October 2023 witnessed Frotcom's remarkable presence at two Premier Transport exhibitions, where the Frotcom Greece team captivated audiences and experts alike with its fleet management software.
Driving Innovation at the Transport Show 2023
From September 22 to 24, 2023, the spotlight was on Frotcom at Greece's esteemed road transportation trade show — the 4th International Exhibition of Commercial Vehicles, Transport Technology, and Logistics, aptly named Transport Show.
The event took place at the MEC Paiania and was a focal point for professionals and enthusiasts from the passenger and freight road transport and logistics sectors.
The Frotcom team took this golden opportunity to offer live demonstrations to potential customers, showcasing the full benefits of Frotcom's vehicle tracking and fleet management system. The Extended CANBus collection and Driver Coaching modules, along with new features within the Driver app, were unveiled to a captivated audience. Frotcom's Remote Tachograph Download stood as a testament to Frotcom's commitment to enhancing fleet management efficiency and ensuring compliance with EU legislation.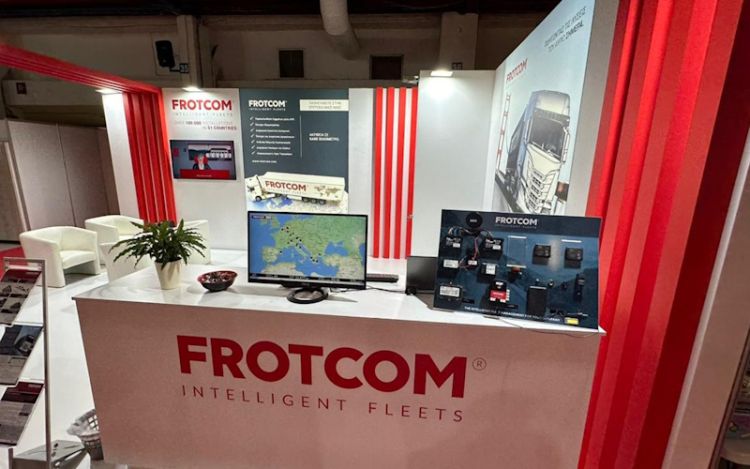 Frotcom at Supply Chain & Logistics Expo 2023
Not one to rest on its laurels, Frotcom swiftly shifted gears to another significant event, the 9th Supply Chain & Logistics Exhibition and the 4th Cargo Truck & Van Expo. Organized by O.MIND CREATIVES, this showcase took place from September 30 to October 2 at the Metropolitan Expo in Athens.
The Frotcom team, once again, demonstrated the latest innovations and developments within Frotcom software. This event was a global convergence of professionals, providing an ideal platform for Frotcom to illustrate its multifaceted capabilities. Visitors from around the world were treated to a comprehensive look at Frotcom's features. From the Extended CANBus collection to Driver Coaching, Remote Cargo Temperature Monitoring, and the Remote Tachograph Download, the event allowed attendees to truly grasp the breadth and depth of Frotcom's offerings.
Nasos Sideris, Managing Director of Frotcom Greece, mentioned that "Frotcom's presence at the Transport Show 2023 and the Supply Chain & Logistics Expo 2023 was an exceptional experience. Demonstrating Frotcom's fleet management software firsthand to a global audience showcased its game-changing potential. The enthusiasm from professionals and the unveiling of remarkable features like the Driver coaching or the Remote Tachograph Download highlighted how Frotcom is driving innovation and efficiency in the industry. We're proud to be associated with Frotcom's commitment to transforming fleet management and propelling businesses toward a successful and compliant future."
Transforming Fleet Operations with Frotcom
More than just tools for tracking and organizing things, Frotcom is a solution that can revolutionize fleet operations.
By continuously pushing the boundaries of fleet management, Frotcom continues to be a leading influence in helping businesses achieve greater efficiency, compliance, and success.
If you couldn't join us at these events and want to learn more about Frotcom's state-of-the-art solutions, contact a member of our team.
Post tags:
Frotcom
Frotcom Greece
Transport Show
Supply Chain & Logistics Expo 2023
Cargo Truck & Van Expo
Intelligent fleets
GPS vehicle tracking
Fleet management system
Driver coaching
Remote tachograph download
Trade shows