Frotcom Silver Sponsor at Transporeon Summit 2023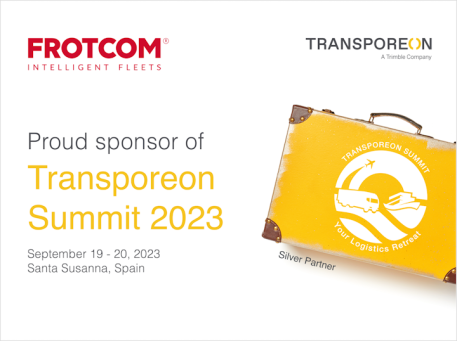 Frotcom, a leading name in intelligent fleet management solutions, is thrilled to announce its participation as a Silver Sponsor at the Transporeon Summit 2023. The event is set to take place in Santa Susanna, Spain, from September 19 to 20, 2023. Frotcom will proudly showcase its cutting-edge fleet management system, which integrates with the Transporeon Visibility Hub, revolutionizing the way the transportation and logistics industry operates.
The Transporeon Summit 2023 is poised to be a gathering of over 500 key players from the transportation, logistics, and supply chain sectors, spanning two days filled with insightful main stage keynotes, targeted streamed content, interactive round tables, panel discussions, and unparalleled networking opportunities in the partner pavilion.
Frotcom, as a Premium Telematics Partner of Transporeon, offers natively supported one-click integration to the Transporeon Visibility Hub. This Transportation Management Platform serves shippers, forwarders, carriers, and retailers in effectively moving, managing, and monitoring freight in our dynamic world.
Frotcom's booth in the Partner Pavilion will provide attendees with a firsthand experience of Frotcom's GPS Vehicle Tracking and Fleet Management software, including the demonstration of the one-click integration with Transporeon's Visibility Hub.
This integration empowers fleet managers and owners to provide real-time tracking of shipments to customers effortlessly. The result is optimized fleet efficiency, coupled with a reduction in CO2 emissions, all achieved through a streamlined carrier onboarding process.
Join Frotcom at the Transporeon Summit 2023. 
For more information about the event, visit the organizer's page.
Schedule a meeting with Frotcom