Frotcom at Transport Show 2023
Frotcom will be participating at the 4th International Exhibition of Commercial Vehicles, Transport Technology and Logistics, TRANSPORT SHOW, which is returning more renewed and richer than every year on September 22, 23, and 24, 2023 at the Mediterranean Exhibition Centre (MEC) Paianas, in Athens, Greece.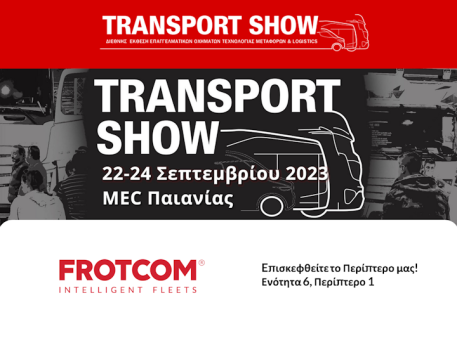 As the biggest road transportation trade show in Greece, TRANSPORT SHOW has become a key event in the region, bringing together professionals from all aspects of the road transport business, including drivers, logistics operators, and service providers. Attendees will have the opportunity to witness the latest vehicle models, cutting-edge services, and advanced technologies available in the Greek market. 
Frotcom team in Greece will be showcasing Frotcom's Vehicle Tracking and Fleet Management system, with particular emphasis on the latest developments such as the Extended CANBus collection, Driver Coaching, and the Driver app. 
Moreover, one of the key highlights will be the Remote Tachograph Download feature that allows downloading tachograph files remotely, from both the tachograph's mass memory and the drivers' tachograph cards, without leaving the office.
If you are looking for a complete Vehicle Tracking and Fleet Management Solution we invite you to visit Frotcom's stand (Stand 1, Section 6) at the TRANSPORT SHOW.
You can buy your ticket at the Transport Show page. 
Come and join us!
Schedule a meeting with Frotcom