8 Benefits of choosing Frotcom for fleet management
Revolutionize your fleet management and reach your company's full potential with Frotcom.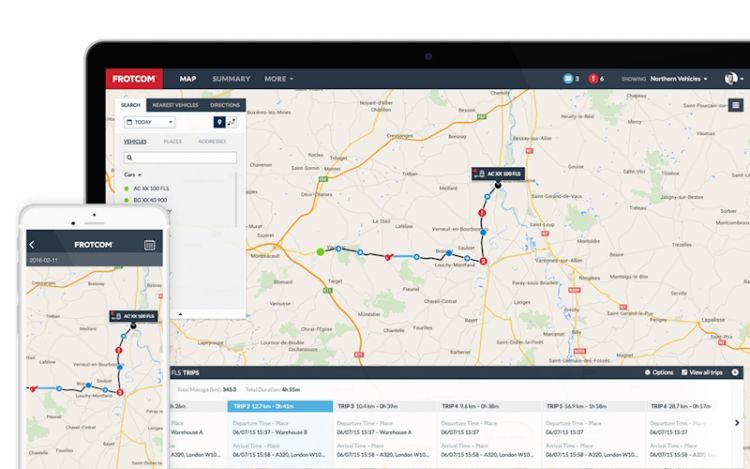 Increasing fleet management efficiency is frequently listed as the top goal of companies with fleets seeking optimum operational effectiveness and financial success. That's where Frotcom, a leading fleet management solution, comes into play. Frotcom is a top-notch fleet management software that helps companies unlock their full potential and improve their fleet operations due to its comprehensive features and proven track record.
Let's take a look at 8 reasons why you should manage your fleet with Frotcom:
1.    Simplified fleet management
Frotcom simplifies complex fleet management processes by allowing you to monitor your fleet in real-time, plan your routes efficiently, and use advanced features to manage your fleet. This offers benefits such as reduced downtime and fuel costs, asset reliability, optimized maintenance, and savings on off-route kilometers.
2.    A safer and more compliant fleet
Equipped with real-time alerts for accidents, unauthorized vehicle use, and geofencing violations, Frotcom prioritizes safety and compliance. These features ensure swift response times, helping companies comply with industry regulations and standards, promoting a safer work environment, and preventing fines.
3.    Reduced costs
With Frotcom, you can manage your costs intelligently with features such as Fleet cost management, Route planning and monitoring, Fleet alarms, and Fuel management, avoiding added costs in fuel and maintenance expenses. In fact, by strategically planning your trips using Frotcom, you can reduce fuel consumption by around 5–7%.
4.    Improved driving performance
Frotcom's Driving behavior analysis and Driver coaching modules are efficient allies in improving driving performance as they allow you to monitor in real-time, or at any time in the past, precisely how vehicles are being driven, thus ensuring better driving practices, leading to fewer accidents and lower insurance premiums.
5.    Increased protection for your assets
With Frotcom's security features specially designed to anticipate and deal with risky situations, you'll have counted protection for your fleet's assets. Frotcom features like Fleet alarms, Remote vehicle immobilization, and Vehicle access control are key for fleet managers to recover vehicles quickly and minimize losses in the event of theft.
6.    Advanced reporting and analysis tools
Frotcom's numerous reports and analysis tools, like the Advanced dashboard, provide valuable information on fuel consumption, driver behavior, and vehicle maintenance, empowering you to make informed decisions, optimize fleet operations, and increase long-term business success by implementing continuous improvements.
7.    Satisfied customers
Efficient fleet management is directly related to satisfied customers. Frotcom enables companies to provide fast and reliable services, resulting in happier customers, an improved reputation, and greater customer loyalty. Consistently meeting expectations translates into efficient fleet management, business growth, and sustainability.
8.    No obstacles to growth
One of the most significant challenges companies face with fleets is ensuring they have the right tools to expand. Frotcom adapts effortlessly to changing requirements, providing seamless management of a growing number of vehicles.
In conclusion, Frotcom's advanced features, scalability, and proven track record are crucial to unlocking your fleet's fullest potential!
Ready to unlock your fleet's full potential? Contact today a member of our team to request a demo and take the first step toward optimizing your fleet operations.
Post tags:
Frotcom
Intelligent fleets
GPS vehicle tracking
Fleet Intelligence
Fleet management system
Fleet scalability
Reduce costs
Improved driver performance
Fleet compliance