Planet's climate is changing…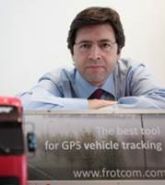 Valério Marques, CEO at Frotcom International.
I spent this last weekend in Cascais, a beautiful Portuguese village on the Atlantic coast. Spectacular weather. About 18C (64F) in the afternoon."So what?" you may ask. Well, it's December. 18 degrees Celsius is not normal, even for Portugal, a naturally mild country. Or is it? According to the European Environment Agency, it will be the new normal a few years from now.
The fact that the planet's climate is changing is no longer subject to any discussion. That it will bring extreme temperatures and precipitation, rising sea levels and shrinking snow is also undisputed. There is even a growing acceptance of the fact that human influence — mainly emissions of greenhouse gases, but also changes in land use — is the primary cause of warming since the mid-20th century.
Many organizations, like the European Environment Agency, are already quite pragmatic about this: "Even if greenhouse gas emissions were to stop today, climate change would continue for many decades as a result of past emissions and the inertia of the climate system. It is therefore necessary to adapt to the changes that have already occurred and to prepare for plausible scenarios of future climate change."
As I was enjoying last weekend's ocean view – and a weather one would expect in the Spring – I took a little comfort in the fact that by reducing the average driven mileage and improving the driving behavior of tens of thousands of trucks and other vehicles, Frotcom is somewhat contributing to reduce the impact on the production of greenhouse gases. That, in itself, is something our company is very proud of.
Post tags:
European Environment Agency
Fleet Intelligence
Fleet management
Frotcom
Greenhouse gas
Improve driving behavior
Reduce driven mileage
Vehicle tracking