Frotcom International receives "PME Excelência" for second year running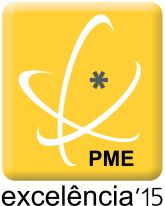 Frotcom International is proud to announce that it has been once again distinguished as a PME Excelência (SME Excellence), recognizing its outstanding business performance and low risk profile. While growing international recognition from peers, partners and the market in general is very welcome, it is always particularly rewarding to see hard won success acknowledged on the home front.
For Frotcom International, over the past couple of years, recognition has come in the form of the coveted distinctions of "PME Líder 2014" and "PME Líder 2015" (Portuguese Leading SME), whilst last year the company was also honored with the accolade "PME Excelência 2014" (SME Excellence 2014).
This year, for the second year running, Frotcom is proud to add the award of "PME Excelência" to our accolades.
This high profile accolade, attributed by IAPMEI (Public Agency for SME and Innovation), seeks to distinguish and promote the best Portuguese SMEs selected from among the SMEs who demonstrate the best business and financial performance, growth and stability, contributing to the country's overall competitiveness.
Post tags:
Fleet Intelligence
Fleet management
Frotcom
Frotcom International
IAPMEI
PME Excelência
PME Líder
Vehicle tracking