Transportes Colectivos do Barreiro picks Frotcom
Transportes Colectivos do Barreiro (TCB), the sole public transportation service provider for the municipality of Barreiro (Portugal), is boosting the efficiency of its fleet management systems by introducing Frotcom's integrated monitoring and management software.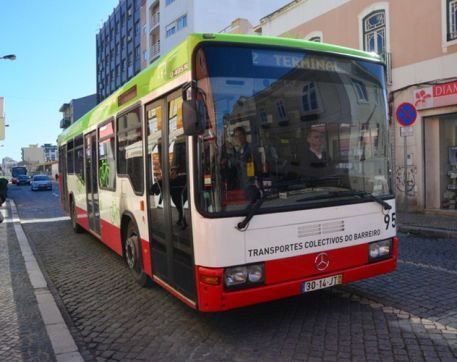 TCB buses service the entire Barreiro metropolitan area and neighbouring population centers. The company is a key element of greater Lisbon's Metropolitan Area network (AML), ensuring the population's mobility and traffic flow on both banks of the Tagus River.
A first step in modernizing support systems had already been implemented in 2010, with a new integrated multi-platform ticketing system being added to manage all transport titles. Since then, TCB has been actively working to improve coverage and operations whilst searching for the best tool for the job.
After careful analysis of various options, TCB made Frotcom its choice, not simply because of the various options it offers, but also because being a locally-developed software will facilitate its integration with other systems and improve technical support and hardware implementation, in a manner impossible for competing products.
As Mr. Nuno Ferreira, Head of Management and Operations Division at TCB explains, "We reached out to other companies but Frotcom caught our eye right from the start with its ease of use and the system's graphic interface. It was clearly the more accomplished software and it was clearly adapted to the demands of public transportation."
This partnership, besides empowering TCB, has also proved extremely fruitful for Frotcom, as it has allowed an upgrade to the routing mechanism, which has improved the overall platform. In fact, this improvement will not only prove handy for TCB, but for current and future clients, both national and international, operating in metropolitan areas.
"This application has allowed us to significantly expand our awareness of the actual service we're offering: we can now pinpoint route lengths and durations, as well as fine-tune schedules, which all equate to greater operational control. Additionally, we can improve management of human resources and review drivers' performance, something we had no way of doing. Another huge plus has been the substantial reduction in fuel costs," continues Mr. Nuno Ferreira.
 
In practical terms, TCB's Head of Management and Operations Division explains that "our fleet operates 23 hours a day for a total of 750 trips, and carries over 30 thousand users every day: in terms of fuel, we're talking about an expenditure of over 4 thousand litres of diesel a day, and the reduction in fuel costs that Frotcom enables is essential."
Post tags:
Transportes Colectivos do Barreiro
Frotcom
Vehicle tracking
Intelligent fleets
Mobility and traffic flow
expand awareness of service
upgrade routing mechanism
pinpoint route lengths
pinpoint route durations
fine-tune schedules
improve management of human resources
review drivers performance
fuel costs redution