Frotcom awarded the ISO 9001:2015 Quality Management System Certificate
We are exceptionally proud to announce that in the wake of implementing our new QMS, Frotcom International has been awarded the ISO 9001:2015 certification.
This prestigious certification — the latest iteration of the world's leading quality assurance standard, ISO 9001 — is granted for meeting or exceeding rigorous international standards in quality management.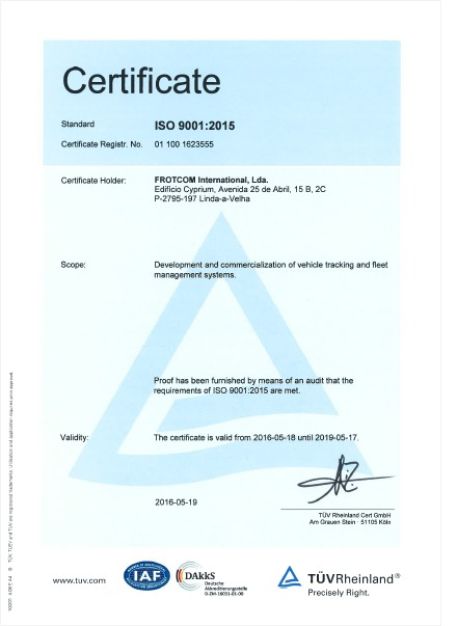 The ISO 9001:2015 certification and audit process was conducted by TÜV Rheinland. To earn the coveted certification, Frotcom International had to ensure that the QM system in place was in complete compliance with the newly updated 2015 standards. Evaluation criteria include a strong customer focus, the motivation and involvement of top management, a focus on internal processes, and continual improvement. To clients, ISO 9001 certification speaks highly of a company as ambitious, reliable, and motivated with high quality products.
Internally, compliance further promotes production of consistently high-quality products, streamlined processes, and increased efficiency across the board.
Valério Marques, CEO at Frotcom International, said that "This Certification is most of all a confirmation that Frotcom International has a strong focus on customer satisfaction. We continuously try to review and improve our procedures in areas such as customer care, R&D or software development in order to deliver products and services with top quality."
Post tags:
ISO 9001:2015
Frotcom
Intelligent fleets
TÜV Rheinland
involvement of top management
focus on internal processes
Continual improvement
high-quality products
streamlined processes
increased efficiency
customer focus
quality management