"Maximize Your Fleet Potential" event promotes complete Frotcom interface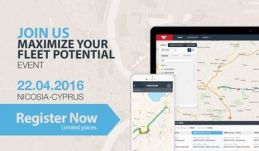 Frotcom Cyprus hosted a one-off "Maximize Your Fleet Potential" event at the Hilton Nicosia-Cyprus Hotel on April, 22, to introduce the new Frotcom interface to both existing clients and interested parties.
Frotcom Cyprus' COO, Michalis Christodoulides and George A. Odysseos, Sales Manager at Frotcom Cyprus, were on hand to present the new HTML5 version, while guest speaker Valério Marques, CEO at Frotcom International, provided a rundown of the key changes focusing on the integration of modules and improvements to such staple features as cost management, eco-driving, workforce management and analytics.
The presentations wrapped up with a handful of featured testimonials and a brief segment on what's coming up next - detailing much sought-after features such as dynamic routing, scheduling, dispatching and a service request portal.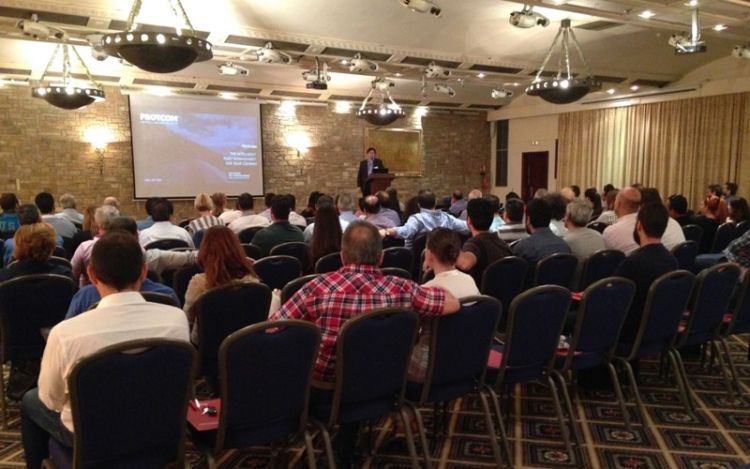 Following the keynote presentations, open Q&A sessions were held with short, hands-on workshops for attendees to explore the full potential the enhanced system has to offer in boosting their companies' productivity, customer service, and cost management.
The event was a resounding success and was heavily attended by both established Frotcom users and potential clients. Company CEOs, GMs, Fleet Managers, Logistics Managers, Financial Managers from over a hundred companies were present and showed a keen interest in exploring the upgraded system for their fleets.
Post tags:
Frotcom
Frotcom Cyprus
Maximize your fleet potential
HTML5
Cost management
Eco-driving
Mobile workforce management
Frotcom Analytics
Dynamic routing
Scheduling
Dispatching
Service request portal