Arguably one of the companies with more visceral enemies, Uber has been increasing its footprint around the world. Taxi operators and drivers, the ones more negatively impacted by Uber's advance, have been gathering in massive demos, with no significant results, at best forcing Uber's expansion to momentarily slow down.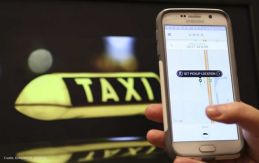 The fact of the matter is, in general, the public seems to favor Uber over taxis. For many reasons, from convenience during booking and payment, to the quality of the service provided, and, of course there's the lower cost too.
There are two things which seem quite interesting to me in this case.
The first is that just 10 years ago no one would predict that a startup would suddenly take over passenger transportation in so many cities, to the point of putting traditional taxis to the curb. 10 years ago most potential customers did not have a smartphone on which to run a simple app as the one provided by Uber. So the convenience part was not possible by then. It took Uber vision and heavy investment to reach the point where the company is now.
Second, taxi fleets can simply promote their own apps. It's not rocket science. In fact, it's a fairly simple platform. Based on GPS, the system sends a message to the vehicles which are nearest to the pickup point. When the first driver accepts the trip, it is assigned to him. From there, there's mostly the tracking of smartphones, billing system and little else.
So why are taxis failing in challenging and beating Uber at its own game? After all, taxi companies were here before, no massive investment would be necessary.
In my opinion this is mostly due to how difficult it is for a company to reinvent itself. The difference between Uber and taxi companies in general is not just the app and platform; it's their strategy and mindset. Taxi operators want to keep a certain traditional way of doing things that is no longer in line with what customers demand.
Once again we're faced with the "Survival of the Fittest" scenario.
Technology can certainly provide companies with a way forward, but that is not enough. Companies must constantly challenge themselves to change, hopefully in the right direction, before it's too late.
By equipping your fleet with Frotcom, we're providing the tools to make your company thrive in this fast-paced competitive world. Now it's up to you to make your move before your competitors do.
Post tags:
Taxi operators
UBER
Customer satisfaction
low cost
passenger transportation
app
convenience
Nearest vehicles
Platform
strategy
mindset
"Survival of the Fittest" scenario
Frotcom - Intelligent fleets
Vehicle tracking
Fleet management