All hands on deck at Transport and Logistics 2016 in Macedonia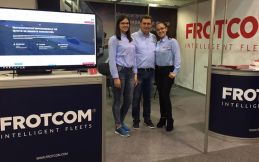 From left to right: Eva Popova, Dragan Kostovski and Maja Domazetovska from Frotcom Macedonia.
Frotcom Macedonia makes its debut at Skopje's biennial Transport and Logistics Fair with live demos, one-to-one meetings and a full battery of feature presentations of Frotcom's fleet management solution.
In its fourth edition, the Transport and Logistics Fair took place at Skopje Fair from the 18th through the 22nd of October and brought together local and international multi-modal transport and logistics operators, as well as professional associations, solution providers and public organizations, in this geographically strategic market.
Leon Jakšič from Frotcom Slovenija visiting Frotcom Macedonia's booth.
As a first-time event for Frotcom Macedonia, the stand was manned by a full complement of Frotcom Macedonia employees, including support from Eva Popova – the new Sales and Support Manager of Frotcom Macedonia - and even a helping hand from Leon Jakšič, Managing Director for sister company Frotcom Slovenia.
Spearheading the effort was Dragan Kostovski, Managing Director at Frotcom Macedonia. "This event was a first experience for all of us, and although we cannot compare it to previous editions, we had our hands full with prospective customers". With a focus on capturing new business, "Over 30 one-to-one presentations were made with current and prospective clients, with over 200 business professionals stopping by our stand – in essence, a great success for our team in Macedonia", added Dragan Kostovski.
Post tags:
Frotcom
Frotcom North Macedonia
Intelligent fleets
Vehicle tracking
Fleet management
Transport and Logistics
Skopje Fair